Barcelona is a city full of life with an endless amount of things to do, see and visit. So much so that our city ranks 17th amongst the most visited in the world and as the 7th most popular city in Europe. For that reason, it can become overwhelming for the quantity of options and things to see in a small space of time. Therefore, Barcelona Connect bring you the top attractions in Barcelona so that you can make the most of your time here and know the city like the back of your hand.
Before coming to Barcelona… what do I need?
If you are planning to come to Barcelona, I am sure that many doubts about the city life or what you need to know. Firstly, the weather in Barcelona is mild, so that you will not have many problems with the climate. Furthermore, you do not have to worry about what to do or where to go because there are a great offer of tours throughout the city where you will be able to learn about its history and sights. If what you are looking for is to party, as many people that come to the city do, you have numerous plans to do in Barcelona at night, of course, always expecting the basic security laws. Last, but not least, the food in Barcelona is one of the best in the whole of Spain and, if not, the world, therefore there are hundreds of places where to eat delicious dishes throughout the city.
What to do: top attractions in Barcelona
Barcelona is a city that offers so many possibilities in every sense (cultural, touristy, personal growth, in work, etc…). As there are loads of things to do, it is impossible to see the top attractions in Barcelona and its outskirts (which are very, or the most, beautiful parts of the city) in a week. That is why, we review all the options to you that the city has on offer so that you choose in a sensible way which ones entice you the most to visit and so that you make the make the most of your time in Barcelona.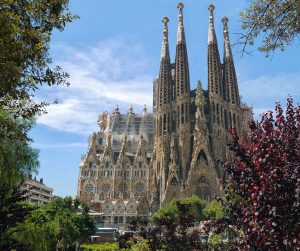 • Gaudí: Park Güell, Sagrada Familia, Casa Batlló, La Pedrera, Casa Vicens…
• The most important squares: Plaza Catalunya, Plaza Universidad, Plaza España, Plaza del Rei, Plaza Sant Jaume, Plaza Reial…
• Museums: MNAC, Picasso, MACBA, CCCB, CosmoCaixa…
• To visit: La Catedral, el Campo del FCB, Santa Maria del Mar, Santa Maria del Pí, El Born Centre Cultural, Liceu, Palau de la Música Catalana…
• Shopping: Portal del Àngel, Outlets (La Roca Village, Viladecans The Style Outlets), La Boquería, Las Arenas, el Mercat de Sant Antoni…
• To wander around: Barrio Gótico, Passeig de Gracia, Las Ramblas, Arc del Triomf, Castillo de Montjuïc, La Barceloneta…
• Viewpoints: Bunkers del carmel, Mirador dels Xiprers, Parc del Guinardó, Mirador de Montjuic…
• To relax: Parc de la Ciutadella, Beaches, Paseo Marítimo…
• Day trips: Montserrat, medieval villages and coves of the Costa Brava, Tarragona, Figueras, Tibidabo…
Aside from the top attractions in Barcelona, there are many other things to do that are not so touristic in order to feel like a local, like going out to explore the city at night, party, relax in the most popular parks or the best beaches in Barcelona. Or taste some Catalan food in some of the best places to eat in Barcelona.
If more than eight million tourists come every year to visit our city (and each year the figure grows), its because it has something that makes people fall in love with Barcelona. Exactly for that we encourage that you come to the Catalan capital to discover for yourself all its beauty and so you live one of the best experiences possible whilst you are on holiday enjoying the city, you will not regret it!