Modern meets historic in Las  Arenas de Barcelona, a former bullfighting ring turned shopping centre.
Located next to the Placa Espanya, the Plaza de Toros de las Arenas was built in 1900 by a Catalan architect. For decades the arena hosted bullfights before its final run on June 9, 1977. Years later it was renovated by a British architect and reopened in March 2011 as Las Arenas Shopping Centre. 
The arena now serves as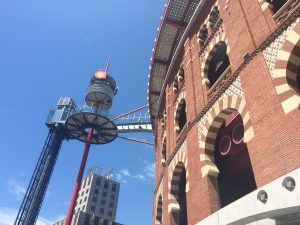 a mall with 6 floors, over 100 shops, and a movie theatre. The circular bullfighting layout remains much the same. The outer brick structure closely resembles its original architecture and guests can view and read about the renovation process on posters throughout the mall. The view from the inside provides an interesting contrast of modern glass panes and steel with the antique brick windows that allow beams of light to flow through.
On the roof of the mall, the sky terrace features a 360 degree view of Barcelona. An outdoor elevator with a view of Plaça Espanya or escalators inside the mall bring guests up to the viewpoint. A stroll around the terrace which circles the centre of the arena includes views of Tibidabo, Plaça Espanya and the hills of Barcelona. After a walk around the perimeter, guests can pick their favourite view and sit at one of the many restaurants on the terrace. Options include upscale Catalan, Japanese and Italian cuisine, each with its own sky high view of Barcelona.
Inside the mall, one can stand in the centre circ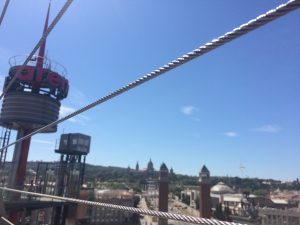 le of the former arena and look up at the many floors of brightly lit shops. The variety of stores include both large and lesser known fashion, electronic, and specialty brands. Unlike most malls, Las Arenas also includes a large supermarket where many locals go for their weekly groceries. If you prefer a quicker meal, the mall has a number of small restaurants on each floor. The first floor has an almost market-like feel with the open concept eateries on either side of the walkway. Walking through, aromas fill the air leading guests to their pick.
On the entry floor there is a central ring that features a tribute to those who worked on the renovation of the arena. There is also an exhibition entitled "Invisible."
The renovation of this old bullring was sparked by Catalonia's declining interest in the historical tradition of bullfighting. In July of 2010 the Catalan Parliament voted to ban bullfighting after a petition collected 180,000 signatures.  In 2011, Catalonia saw its final bullfight at La Monumental, the last standing bullring. It is now rumored that La Monumental will be purchased and converted into the largest Mosque in Europe, as reported by the DailyMail. Las Arenas was ahead of its time, closing the arena for bullfighting in 1977 long before its ban in 2010. It now stands as a mixture of old world and new.