Discover Montserrat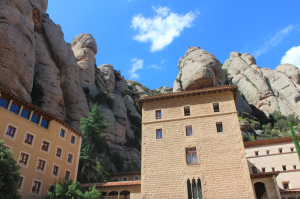 According to the traditional Catalan language, the word ¨Montserrat¨ literally means ¨serrated mountain.¨It is no coincidence that this mountain is called ¨Montserrat¨as it can be described as a jagged mountain peak with unique rock formations. It is an incredible sight to see and is conveniently located just outside of Barcelona, in the heart of the Catalunya region.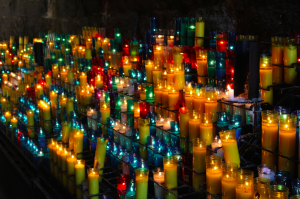 The beautiful Montserrat Monastery sits on top of the mountain peak with amazing views all around. The Monastery is not only visually stunning, but it maintains highly significant religious importance and is rich in Catalan culture. A walk through the Monastery guarantees a memorable experience as you discover the Black Madonna and learn about the intriguing history of the region. The famous Black Madonna sits in the center of the monastery, surrounded by golden walls with detailed design covering every inch of the building. While the actual statue is behind glass, one of her hands is uncovered for you to touch upon your visit. It is tradition to touch the hand of the Black Madonna, whether you may consider it a religious experience or not. The moment you may choose to share with her is powerful and captivating in such an atmosphere.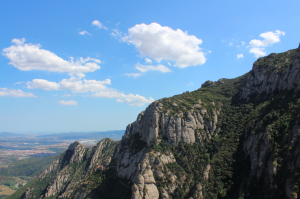 Montserrat has much more to offer in addition to the Monastery. Many visitors enjoy taking a hike through the mountain top with various walking paths available. The Sant Jeroni path is a more advanced hiking trail that starts at the Sant Joan furnicular train, from which you climb to the highest point of Montserrat. There are also less challenging routes if you´re not interested in spending hours on the trail. Regardless of which path you choose, the views are breathtaking in every direction.
If you´re not looking for a trekking experience, there are a few little shops (and sometimes a cheese market) around the Monastery where you can enjoy a nice stroll with a mountaintop breeze. Even if you didn´t climb, an ice cream is always well deserved. You may also choose to visit the museum while you´re in the area. The museu de Montserrat showcases over 1,000 pieces of art between six different collections. Entrance to the monestary is free, but entrance to the museum is not.
Getting There
The easiest way to get to Monserrat is to catch a train from the rail station at Plaça Espanya. The train will take you to the base of the mountain and leaves you with different options on how to proceed to the top. One option is a short cable car ride up to the monastery with views along the way. Another option includes the Cremallera Funicular, or the rack train, which is a slightly longer ride where you are seated. The trip is easy to organize around your convenience.
Tip: Plaça Espanya is a massive rail station, so be sure to get there early to find your way to Line R5.