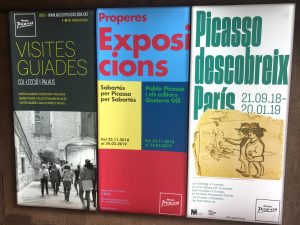 Begin a memorable experience as you explore the world famous art of Pablo Picasso.  The Picasso Museum is renowned art museum that welcomes thousands of visitors each year.  The museum is ideally located in the Born, a picturesque neighbourhood in the old town area.  The museum opened in 1963 and has been hugely popular since its opening. This  well-designed and thoughtfully organized museum houses over 4000 pieces of Picasso's artwork year round.  There are many rooms filled with his first works as a young boy as well as his later pieces created in the 1950s.
Pablo Picasso is renowned as one of the most influential artists of the 20th century.  He was born in 1881 in Malaga in the Andalusian region of Spain and spent most of his adult life in France.  He is not only known as a painter, but also as a sculptor, ceramicist, poet, and even a playwright. Picasso's art is all over the world, but since he is a native to Spain it is wonderful to have the museum in Barcelona. 
Young Picasso
The museum is organized chronologically and opens with his oil paintings as a young boy.  The opening exhibit includes a self-portrait as a 13-year-old boy and a painting of Playa Barceloneta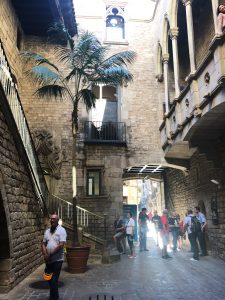 in 1896.  His talent and skills were evident from an early age and his formative years were spent all over Spain. Whilst exploring these exhibits you might notice the impact of Barcelona and various Spanish cities on his art.
Further into the museum, his breakthrough piece of art, "First Communion,"  hangs in one of the rooms. The oil painting is large, life-like, and extremely detailed.  This painting was first presented in a leading exhibit in Barcelona and received much attention from the press.  From this painting, Picasso's popularity skyrocketed. He continued to paint religious sacraments or typical scenes one would see in a Catholic church.  The museum even includes sketches and a glimpse into Picasso's process prior to painting on any canvas.
Picasso and France
As Picasso got older, he worked for many years in France.  He also became well-traveled largely due to his art and his increased popularity.   In the museum, you will see hundreds of sketches such as stray cats, naked women, men sitting at a bar, and a couple romantically sharing a kiss.  It seems that Picasso was always creating whether using ink on crumpled pieces of paper or oil paints on a large canvas.
Toward the end of the museum, you will get to see paintings from his famous "Blue Period" and late 1950s.  Most of this work was done all over France. For example, one painting you may see is "The Pigeons."  It is part of a larger series and is a bright, multi-coloured painting of a water view in Cannes, a beautiful, coastal city located in the French Riviera.
Getting to the Museum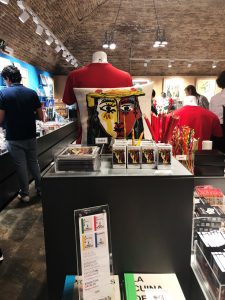 No matter how much you may already know about Pablo Picasso, the museum is phenomenal to visit.  The museum is easy to get to by metro or bus. The closest metro stop is Jaume I (Metro Line 4) and there are manyes bus lines available depending on where you are in the city.  Also, tickets range from 7 – 12 euros. If you're lucky, you might be in Barcelona during their free days!  Lastly, the museum has a fantastic gift shop where you can take a piece of Picasso home with you.  Enjoy!