One of the most popular (and terrifying) festivities celebrated around the world in the month of October is Halloween. In Barcelona and the rest of Catalonia this is no exception. However, here we celebrate La Castanyada. If you want to know more about this festivity, recipes and activities to spend like a real local, keep reading! 
History of La Castanyada 
La Castanyada is a popular festival that is traditionally celebrated between the night of October 31st and November 1st (All Saints' Day). The name Castanyada could be translated as "chesnut festival" and refers to the piles of roasted chestnuts that are eaten during this celebration. It is a festival deeply rooted in Catalan culture and that is why it is celebrated with family, friends and even in schools. 
The beginnings of La Castanyada date back to the late 18th century, when on the vigil of All Saints, the bell ringers worked all night in the churches announcing to the residents of the town that the time had come to pray for the dead. It was at that time that the figure of the "castañera" emerged, elderly women who sold itinerant chestnuts to the bell ringers to help them recover their strength.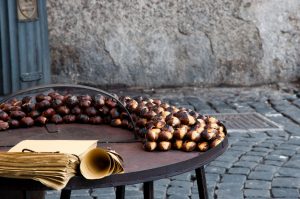 Typical food during La Castanyada 
Every festivity has a peculiar gastronomy that accompanies it, and of course, La Castanyada is not for less! 
Chestnuts and Sweet Potatoes: They are the typical foods of this festival. As tradition dictates, chestnuts and sweet potatoes are roasted on charcoal grills and sold in street stalls. A bag of approximately 12 chestnuts costs about €2.50 and sweet potatoes cost less than €5
Panellets: They are small and round sweets, made with almond and sugar dough, covered with different toppings (nuts, fruit…). You can find them in different bakeries and supermarkets, however, if you would like to experiment with traditional Catalan cuisine and test your culinary skills, we suggest that you make them yourself at home. Here is the recipe:

Ingredients:

250gr of raw ground almonds

250gr of sugar

Zest of a lemon 

125gr of cooked potato or sweet potato 

1 egg

60gr of pine nuts 

Preparation:
1. Cook the potato/sweet potato. Once cooked, mash with either a fork or a potato masher. 
2. Mix the sugar and ground almonds in a bowl. Add the lemon zest. 
3. Break the egg and separate the yolk from the white. Beat the yolk and add to the potato. Pour the mixture into the bowl with the rest of the ingredients. 
4. Mix well until there is a homogeneous paste. 
5. Mold the paste with your hands and form small balls (no bigger than a walnut). 
6. Use the egg whites as a base for the balls to batter them in pine nuts. So dip each ball into the egg whites and then into the pine nuts (you could also use cocoa, coconut or almonds as substitute for the pine nuts). Then place these onto a baking sheet. 
7. Preheat the oven at 180 degrees then bake the balls on the tray for 15 minutes or until they are golden brown. 
8. Once removed from the oven, let them to cool and they are ready to eat and enjoy!

Candied fruit and Muscatel: it is also common to take candied fruit (dates, cherries, peaches) together with muscatel, a sweet wine made from the Muscatel grape variety. 
Plans to celebrate La Castanyada 2021
These are some of the best plans to spend a scary day in Barcelona:
Escape Room: Can you think of a more terrifying plan than doing an Escape Room in Barcelona? Gather your friends and dare to live this experience. Will you make it out alive before time runs out? 
Terror Tunnel: During La Castanyada, there are many buildings in the city that put aside their beautiful appearance to become an authentic paranormal scenenario. Some terror tunnel that are celebrated this year are Halloween in Poble Español, or in the Civic Center of Trinitat Vella. 
Costume Contest: For the little ones, we suggest you organise a scary costume contest. It is a very fun activity for children to let their imaginations go wild and design their own costumes. 
Horrorland: From October 15

th

, the Horrorland horror park will be placed in Illa Fantasia (Vilassar de Dalt). If you are daring and you love adrenaline, this plan is for you! Terrifying shows, scares and lots of screams are guaranteed!
Other plans for La Castanyada: Marathon of scary movies, legends and spooky stories of Barcelona, decoration of cookies and cupcakes with a horror theme…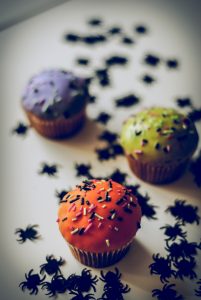 As you can see, La Castanyada has nothing to envy to the famous Halloween, as it can be funny and terrifying in equal parts.