Barcelona is a city known around the world for its delicious food, its good weather and the kind-nature of its people. Although our city does not have an extreme climate and winter is usually not very cold, unfortunately people do not seem to come for a break in winter. For us, the worst is that, when the clocks go back, from 6pm the night draws in, something that could limit visiting hours and the time you have to do certain activities. If you are of those who agree with that: you do not realise what you are forgetting! As in reality, there are so many things to do in Barcelona at night, due to the fact that it is a city with a very active night life, will you come to discover it?
Barcelona at night … Party!
Clearly, the top of our list is partying. If Spain is one of the referred places to go to party, then Madrid and Barcelona are the best cities to try it out. In Barcelona at night, you will find a number of bars open until 3am and clubs that close at 6 (which differs to clubs in North European countries that close at 2am or 3am). Furthermore, virtually all the bars and many night clubs have free entry before 1, so that, between cheap drinks and free entry to the club, you could go out for less than €10! Some of the best places to party are: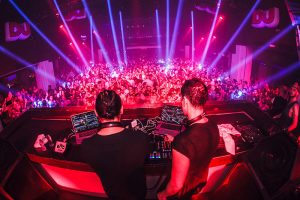 • Port Olimpic: An area with many bars and some of the best clubs in Barcelona
• Barrio de Marina: The ideal place to drink cheap and then go out to Razzmatazz club. Usually it is home to people that like rock and heavy metal.
• Eixample: The self-proclaimed gay area of Barcelona, full of bars and clubs. As a result, everyone here is very welcoming and open minded.
Discover surprising bars
Our city has an enormous variety of bars and places to go for a drink; whatever you are looking for (cheap, signature cocktails, rock and roll bars, secret bars, places to party…) Barcelona has them all! Some of the best bars are:
• Paradiso: In order to access this place you have to go to the Pastrami Bar and pass through the fridge, as it is the secret door to the cocktail bar!
• Bobby's Free: This barber shop hides a secret… a hidden bar in its' purest state, signature cocktails and live music. Above all, don´t forget to find their password on Facebook and Instagram, or you will not be allowed to enter.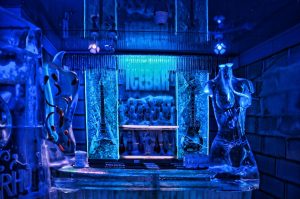 • Ice Bar Barcelona: Have you ever had a drink in a bar made entirely from ice? Well this is the first Ice Bar located on a beach in the whole world!
• Kahiki: A very central hawaiian bar with very rich and original cocktails.
• Nevermind: The perfect place to have a couple of beers in Barcelona at night with your friends in a completely underground environment, then again they do have their skate track inside the bar!
Go to a viewpoint
As much as Barcelona is a city that, literally, is surrounded by mountains, it is very easy to get away from the centre of the city and find some views that gift you with some of the best views of Barcelona. Furthermore, as the sun sets a lot earlier, you can take advantage of spendin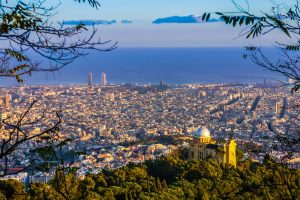 g the evening watching the city from the illuminated heights. Some of the best viewpoints are:
• Bunkers del Carmel
• The towers of MNAC: Very easy to access as they are found in Plaza España
• Carretera de les Aigües: This route is focused around the periphery of Barcelona and has some of the best points to enjoy Barcelona at night in the calmest and most private way possible.
Pass by the centre to admire Christmas decorations
Although it is sad to see the sun set so quickly, during the winter Barcelona is draped with lights and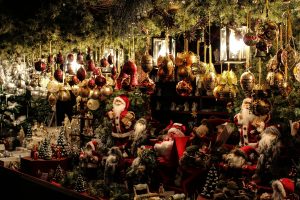 colours thanks to the Christmas decorations that take over the city. These are placed in the city centre, on the plazas and main streets, the historic quarter and they are usually turned on the 22nd November until 6th January. In addition, the shops in Spain usually close at 9pm, because of that there is a great number that pass through the city centre during the afternoon, to look at the shops, visit Christmas markets, have a drink or some food on a terrace and enjoy the image of our city full of light and colour.
Fabra Observatory
What a better moment to go to see the start than at night? Well the Fabra Obse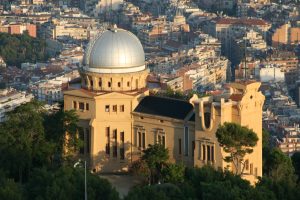 rvatory gives you the opportunity to discover the mystery of space. This place, located on the Tibidabo Mountain, offers you a tour of its facilities, scientific explanations and the chance to observe by its telescope in order to see first-hand the beauty of space. Also, if you enquire early enough you can stay to eat there whilst you complete all the wonders on offer in the Barcelona sky. Without a doubt an ideal plan to do in Barcelona at night with your partner!
As Barcelona is a city that never sleeps, there are so many other options that you can do in Barcelona at night, like go to a restaurant, visit museums (some close very late and others open at night), walk by Avenida del Paralelo and go to a theatre. You have so many alternatives to take advantage of in the darkest months of the year and discover our city, what are you waiting for? Your adventure starts now!