Barceloneta is one of the most popular areas in Barcelona. With a swarm of people walking through it at all hours of the day and night, there is always something to do. This area is a hotspot for the beach, plus great bars and food in Barcelona.
During the Day
Days in Barceloneta are best spent on the beach. Beginning at the W Hotel and ending at the Port Olympic, there are plenty of sandy spots for anyone looking to tan in Barceloneta. However, because of the popularity of the area, it may be hard to find a spot with some space, so be prepared to walk slightly further to find your piece of paradise.
After you've found your spot, dipped in the cool Mediterranean waters and tanned to a caramel brown, you will have worked up quite an appetite. You'll have no trouble at all finding a spot to eat in Barceloneta. On a walk down Passeig de Joan de Borbó, waiters stand outside with menus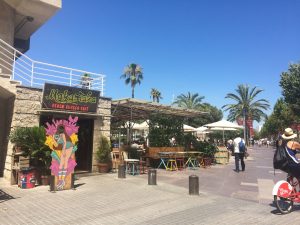 pulling you in and persuading you that their restaurant is the best. Choices range from paella to burgers and noodles, and about everything in between. The prices are just as varied with expensive pastas and thrifty sandwiches all available in the same area.
Mamaka is a trendy burger restaurant that has taken off thanks to it's great menu and prime location off Barceloneta beach. There's a laid back hipster beach vibe and you'll find rave reviews all over the internet. This is a good spot to grab a fresh drink and burger, and relax after a day at the beach. Don't miss out on their parmesan fries!
Barceloneta by Night
The sun has gone down, you've gone back home for a nap and shower and now you're ready to experience what happens inBarceloneta… after dark. At this point you have an important decision to make: What's your style? Do you prefer a laid back bar? Or a wild night club? Why not both?
Nights out in Barcelona start late, just like most things in this laid back Spanish city. Clubs don't get busy until around 1:30am at the earliest, with the bars seeing some action beforehand. The Room is a modern bar with glass walls near the major Barcelona night clubs. They offer some good shot deals that are perfect for your pre-club pre-gaming. ONAC is another trendy spot near the beach area that is becoming popular. This club is more intimate with a diverse taste in live music and DJs.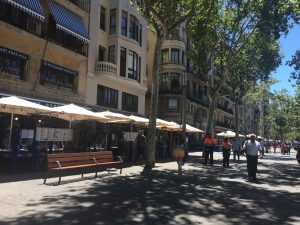 Now that you've avoided the pricey club drinks by hitting a cool bar spot, you're ready to see the seafront's wild side. The major clubs such SHOKO andOpium  are conveniently condensed into one area allowing you to choose when you arrive. Many of the clubs have facebook guest lists or flyers (handed out along walkways) that allow guests to enter for free before a certain time and with a discount after that time. Otherwise, you will be charged to enter (especially guys!) Also, most will not allow you to enter in your beach clothes so check the dress code to avoid major disappointment.
If you want to avoid the confusion of club lists, lines and crowds, you may be interested in a more laid back Barceloneta experience. One hidden away bar, off the path of drunken club goers is Absenta. This bar is popular with locals and makes their own brand of Absinthe (hence the name). It is a small bar with some quirky interior design complete with a green fairy flying above your head. If you're interestied in trying absinthe or you want a relaxed night out, this may be the spot for you.