Tarragona is perhaps best known for its previous incarnation as Tarraco, the Roman capital of the Iberian Peninsula.  Many of its historic remains are exceptionally well preserved, which earned the city the title of UNESCO World Heritage Site in 2000.
The c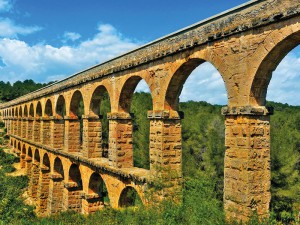 ity was first captured by the Romans in 218 BC. They constructed an infrastructure with everything from an amphitheatre and aqueduct, to a forum with spaces for business and temples for worship, roads, and of course strongly fortified city walls to protect its perimeter. The walls themselves are considered to be the oldest remaining Roman structure outside Italy, and you can walk along some of these remains and catch some great views through the slits in the stone which were originally made for firing arrows.
The most striking construction in the town of Tarragona is the Roman amphitheatre. This is situated right on the coast, with wonderful views over the Mediterranean from one side and the city on the other. Holding up to 14,000 spectators, it was used for traditional Roman sports as well as violent public executions. This structure is remarkably well preserved, and you can walk along the top and sit on the steps as the spectators would once have done. A stone's throw from the amphitheatre are the remains of the Roman Circus. Its underground caverns can also be visited.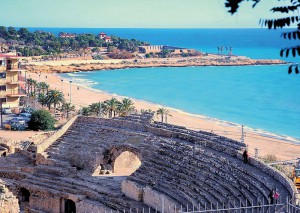 Emerging from here you'll find the National Museum of Archaeology, where fragments of larger structures such as columns, statues and busts from the forum and theatre, and other artefacts found in and around Tarragona are displayed. It also includes an impressive collection of mosaics and items from everyday life such as ceramics and jewellery. There is a large room dedicated to mosaic floors, which include detailed geometrical patterns, intricate depictions of hunting scenes, and representations of myths and stories. A huge mosaic shows 47 different types of of Mediterranean marine fauna. These are generally fish, but various crustaceans, mammals and cephalopods and have also been identified. Another large room is filled with statues and bustsof the political and religious leaders of the time.
On the outskirts of town you'll come across the Christian Necropolis, the main Roman cemetery which was used in the 4th and 5th century. Ironically the burial grounds were discovered during the construction of a tobacco factory.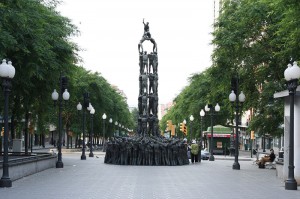 The Pont Del Diable Aqueduct is a short bus ride out of the city, and is another extraordinary piece of Roman architecture. It is almost 250m long, 27m tall and it's well worth seeing. Built around the first decade AD, it brought water to the city from rivers to the north.  The fact that it is still completely intact is credit to the amazing architectural prowess of the Romans.
Tarragona's streets and squares have plenty of traditional restaurants and cosy bars where you can relax after a day's sightseeing.
Getting to Tarragona
By bus: There are 7 buses every day.  8,71€ one way, 16,55€ return. 1hr 45 min. www.barcelonanord.com
By train: Several trains every hour. Regional Express is cheapest. 7,50€ one way, 12€ return. 1hr 20 min. www.renfe.es