Barcelona is the ideal city to visit every day of the year, its Mediterranean climate and coastal location making for mild winters and hot summers. As the weather in Barcelona is fairly predictable, we recommend visiting the city when there are events on, such as Sant Jordi in April, La Mercé in September, music festivals throughout the year, New Year's Eve, etc (link to other articles), such which will make your trip truly unforgettable.
In general, the weather in Barcelona is typically clear blue skies and lots of sun. However, it is possible that it may rain during your time in the city, especially if you're visiting during the months of September, October, November, Abril, and May. In Barcelona it doesn't rain a lot, but when it does, it pours… so, remember to bring an umbrella if you're coming out of the summer season.
Although the city mostly has a predictable and tame climate, each season comes with its own pros and cons. Therefore, we've written a summary of each season so that you can choose the best time to come to the city.
-Spring:
We think that spring is the best time to come to Barcelona. This is when temperatures are starting to rise, without reaching the excessive levels of summer heat, and most importantly, the large number of tourists that visit the city in peak season, have not yet arrived in Barcelona so you can see the sites in minimal peace. The average temperature ranges between 12ºC (53ºF) and 22ºC (71ºF). We recommend coming in either in April or May.
Spring events that you shouldn't miss: Sant Jordi (23rd of April), one of the most anticipated days in the Catalan calendar, where the streets are filled with book stalls and roses in homage to the patron saint of Catalonia.
-Summer:
If you're looking to come to Barcelona to sunbathe, summer is the best time to visit the city. Both Barcelona city and its surrounding coastal towns are packed with locals and tourists making the most of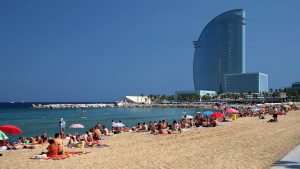 the glorious golden sands. Although this is the best time to swim in the sea and go to the beach, the city also continues normally while tourist attractions even increase opening hours to cope with the influx of visitors. Remember to take into account that this is the hottest season of the year (above all in August), and because of the high levels of humidity and longer hours of sun, it can be difficult to enjoy the heat. Average temperatures range between 26ºC (77ºF) and 33ºC (91ºF).
Summer events that you shouldn't miss: Festa Major de Gràcia (mid-August), a week-long street party organised by the neighbourhood of Gràcia, where streets are decorated to the nines and locals stay partying until the sun comes up.
-Autumn:
Autumn is also a good season to visit the city, as the weather in Barcelona, most of all in October, is still hot enough to go to the beach! At the same time, autumn in Barcelona can also bring a lot of rain, particularly at the end of September, October, and November. In this season, the humidity and temperatures decrease, but it still isn't cold. Average temperatures range between 14ºC (57ºF) and 26ºC (77ºF).
Autumn events that you shouldn't miss: La Mercè (20th to 24th of September) the biggest and most important event in the city. With a five-day fiesta that includes traditional fire runs and processions, street activities and workshops, open air concerts, beach parties, etc…
-Winter:
Although winter in Barcelona is fairly mild, there can be some colder days in the city. Also, bear in mind that the days are a lot shorter this season, the sun sets around 17:30 and at 18:00 it is completely dark. These shorter hours could affect your visit to Barcelona. However, it rarely snows so there is no need to worry about ice and frost during your stay. The average temperature ranges between 6ºC (42º) and 10ºC (50ºF).
Winter events that you shouldn't miss: Three Kings (5th and 6th of January), the three magic kings give out presents to children who then open these gifts on the morning of the 6th of January. Presents given are usually bigger than those gifted on Christmas Day.
Weather in Barcelona
Keep in mind that the weather in Barcelona can always change, and we used averages temperatures from previous years in our summaries. As with every country, climate change is continuing to have a profound effect on typical weather patterns, so always have a backup plan in case you don't get the weather that you were hoping for.
Still haven't decided about coming to Barcelona? If every season looks good to you and you are flexible with your dates, you can compare the price of apartments and see which season they are the cheapest to save money. We recommend this website where you can browse a wide range of holiday apartments and compare dates and prices so you can book your ideal stay.