The Palau de la Musica Catalana was built by the architect Lluís Domènech i Montaner between 1905 and 190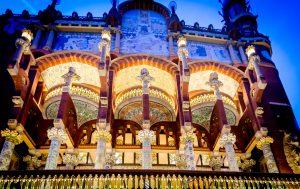 8 and is listed since 1997 as a World Heritage Site of the UNESCO thanks to its magnificent modernist architecture. It is as well a true symbol for the Catalan people.
The Palau is a great building which owns many rooms, all of them very different one another. If you decide to go for the Tour, you will be able to discover them. First, the visit will begin in the Rehearsal Hall of the Orfeó Catala, the room where the first stone of the building was laid in 1905. The Orfeó Catala in one of the most important choir in Catalonia. In this amphitheater, you will watch a quick movie about the history of the Palau and the greatest people who worked towards the place.
After that, you will be guided through the stairs to access the Lluís Millet Hall, a fantastic room which has a balcony, decorated with columns and flowers which are a homage to nature. In this venue, you will
be able to discover head sculptures of important people for the Palau such as Lluís Millet, the founder and the first director of the Orfeó Catala. Then, you will reach the Concert Hall, a wonderful and colorful room where the concerts take place. The massive organ will accompany your visit with a quick but impressive show of the instrument's acoustic power. Afterwards, the second floor of this fantastic hall is the next step of the visit. It will be the occasion to have a final look at the splendid architecture of the place.
To enjoy this unmissable visit, you can buy your tickets online. Furthermore, if you are fond of music, you can find on the Palau website some customized packs to attend concerts with discounts. For more information, visit the official website.
How to get there: Metro Line 1-4 Urquinaona; Bus line: V15, V17, 45
C/ Palau de la Música, 4-6, 08003 Barcelona