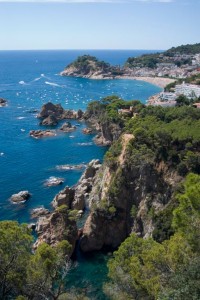 This pretty town on the Costa Brava is just 100km north of Barcelona, and a perfect destination for a day trip – or even better, a weekend away. Tossa has it all – long golden beaches, secluded rocky coves, a wealth of history to explore, and great restaurants.
Discover Tossa de Mar

Roman history. One of the most important Roman villas was the Casa Ametllers, at Av. del Pelegrí, 5. Its thermal baths, mosaics, fountain and majestic rooms transport us to another era.
Old town fortifications. High stone walls guarded the Medieval town, protecting its inhabitants from invasions. Its original structures date back to the 13th century and still stand tall.
Municipal museum
Enjoy a blast of culture at Spain's first contemporary art gallery, which opened in 1935. Tossa was a haven for avant-garde artists and intellectuals, including Marc Chagall and André Masson.
A stroll through town
Quality craftsmanship glimmers in shop windows; you'll find jewellery and souvenirs that are worth splashing out on.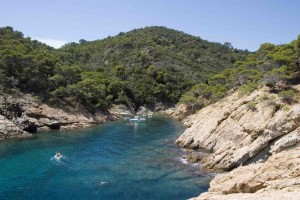 Idyllic Beaches
The natural landscape of the Costa Brava is breathtaking. Platja Gran stretches in front of the town, and the smaller Platja d'es Colodar is ideal for those seeking more seclusion. Drive up the coast and you'll find plenty of picture-perfect gems such as Cala Bona and Cala Pona, rocky coves with azure waters framed by dark green pine trees.
Bars and Restaurants
Fresh fish is a speciality, and if choosing tapas try the fish options such as calamari and sardines. The street of Calle Portal has several good restaurants, including traditional fisherman style cuisine at Can Comas (Portal 22) and Can Carlus (Portal 20), and local Mediterranean specialties at Can Pini (Portal 12).
Festivals in June
Sant Joan, 23rd. This traditional Catalan Midsummer festival is celebrated in style on the evening of the 23rd June. Large bonfires blaze on the beach, and fireworks illuminate the Medieval old town creating an unforgettable spectacle.
Festa Major, 20th-29th. Folklore and magic fills the streets, with correfoc fire runs, dancing, music and countless activities for everyone to enjoy.
Yes, June is a great month to visit Tossa!