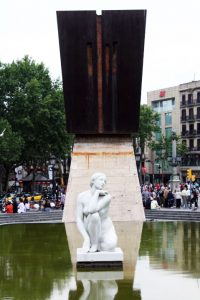 Plaça Catalunya (in Catalan, Cataluña in Spanish) is one of the most famous squares in the city of Barcelona. Often regarded as the center of the city, Plaça Catalunya is a link between numerous famous areas of Barcelona. Leading away from the square you have the famous Ramblas which lead to the fresh produce market Boqueria, or, if you head in the opposite direction and follow Passeig de Gràcia, you will find yourself on Spain´s most expensive street. Read on for a round-up of what the square has to offer.
The square itself
Taking up over 50000 square metres in the centre of Barcelona, this is first and foremost a meeting point. The conception of the square was in the late 19th century, however the plans only came to fruition in the early 20th century and changes were continually made to the area until 1929. Scattered accross the area you will see numerous fountains and sculptures designed by Catalan artists. One of the most famous of these is La Diosa by Josep Clara, whose statues are scattered all around the city of Barcelona. You can find La Diosa in front of the Francesc Macia monument.
Sharing the square with these artworks, the numerous pigeons always on site cannot be ignored. Attracted by the food and water from the surrounding fountains and cafes, the square is always swarmed by birds. Keep an eye out and you might see some monk parakeets in the sea of pigeons, as Barcelona is known to be home to hundreds of these brightly feathered birds.
Plaça Catalunya Cafes
Cafe Zurich. Of all the restaurants and cafes that lined the square in the past, only one made it through the Spanish civil war: Cafe Zurich. First opened in the 20th Century, it has since been knocked down and rebuilt in keeping with the original layout and decor. This is an ideal people watching spot and all the more pleasant when aware of the history of the place. This was, once, where the social elite would meet.
Farggi Cafe. For variety´s sake, Farggi is a good pit stop. Albeit on the pricey side for Barcelona, the options available will likely be great if you have a big family with different tastes to please. Hot and cold drinks come in more varieties than you could wish for, while there is a good variety of snacks on offer too. Also ideal if you are feeling homesick, as most of the clientele here will likely be taking a a breather from visiting Barcelona as well.
Restaurants
Nineteen Restaurant. If you are feeling fancy (and perhaps have a companion you want to impress), Nineteen is the place to go. With sleek interior design and its central location, this venue lives and breathes luxury. On the upside, prices are not astronomical, so you won´t have to sacrifice other indulgences as you navigate Barcelona.
Txapela. For a slice of the traditional, Txapela is perfect. With an atmosphere that gels well with small groups and families alike, this is the place to go in Plaça Catalunya if you want to try a variety of pinchos (various foods served on bitesize slices of baguette). With the place mats showing all there is on offer, we recommend asking for a pen and circling your choices. There are 51 pinchos to chose from, so loosen your belts!
Hard Rock Cafe. For a break from traditional Spanish and Catalan cuisine, the Hard Rock Cafe is waiting for its visitors in one of the best locations in the square. Dine here and you will not dissapointed: delicious burgers and other mains, cocktails, and indulgent desserts. Americana at its best.
Shopping
Alongside the numerous shops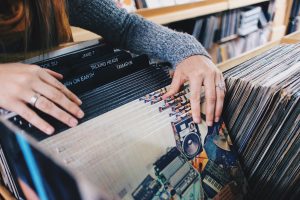 lining the square and leading away from it, there are two places to go if you like all your shops under one roof.
Corte Inglés. The Corte Inglés is a department store that houses hundreds of brands. Founded in 1940, there is a department that can cater to every need and want. A great place to go if you want to shop for familiar brands as well as lesser known Spanish ones, time can fly by as you wonder the floors (there are nine floors and a basement). Do not miss the floor below ground where you can sample some local specialities and bulk buy Lindt chocolates. What´s not to like?!
FNAC. Better fitted for the techies out there, FNAC is a shopping centre that focuses on technology and gadgets. Whether you are looking for tablets, mobile phones, headphones, or anything else along these lines, FNAC is likely to have it. There is a good book department too if you want to grab a holiday read, with the English section usually having a good selection of bestselling new releases and the classics, and a good stock of vinyls for the retro fans.
Essential Information
Getting to Plaça Catalunya is as easy as it gets. The corresponding metro station shares its name with the square, Catalunya. You will find it on Line 1 (L1), Line 3 (L3), Line 5 (L5). The Aerobus (connecting El Prat airport with the city) journey ends – or begins – here also, so this is likely to be your first contact with Barcelona.
Opening times in Spain are a joy. The Corte Inglés, for example, is open daily 10am to 10pm, while Cafe Zurich is open 8am to 11pm all days, with one hour variations on the weekend. This makes it a great starting point regardless of the time of the day, without the risk of being stuck in a ghost-town.