We all know how wonderful and diverse Barcelona is, from beaches to bars, landmarks to nightlife, this is a city that truly has it all. But how do the cities and towns around Barcelona compare? In this blog we will show you the best places that you need to visit that are near to Barcelona, for the rare occasion that you want to explore outside the city! There is something for everyone, whether sea or culture, you'll love a day out to these fabulous towns. 
1. Cadaqués
Cadaqués is a fishing village about 2 hours by car from Barcelona. It's located directly on the Costa Brava, so you can go to the beach and swim or sunbathe. Every August, the town hosts an international music festival that tourists from all over flock to enjoy. The promenade of Cadaqués runs along the shore, where the Casa Blaua is located, built in beautiful Art Nouveau style. You can also get to Cadaqués by bus from the north bus station in Barcelona. It takes 3 hours, so not the quickest of trips, but it is definitely worth the wait. Alternatively, you can rent a car to make the journey much simpler and more direct. Make sure not to miss a visit to the stunning town of Cadaqués!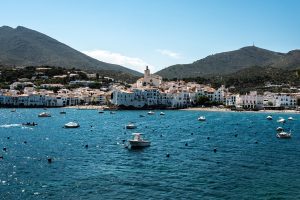 2. Sitges
Sitges is a small town of 25,000 inhabitants located about 35 kilometres southwest of Barcelona. It lies between the Parc National del Garraf nature reserve in the north and the town of Vilanova i la Geltrú in the south on the Costa Dorada. Sitges is famous for its annual carnival, which brings the flair of Rio de Janeiro to Spain. But Sitges offers not only its infamous carnival, but also breathtaking beaches. Several sandy beaches and good water quality make going for a swim in Sitges too tempting to resist. The winding streets of the old town are lined with bars, cafés and excellent restaurants, so there is something for everyone in this town. The best way to get from Barcelona to Sitges is to take the train from the Barcelona Sants Station. It only takes 45 minutes on average, and you don't have to worry about traffic jams!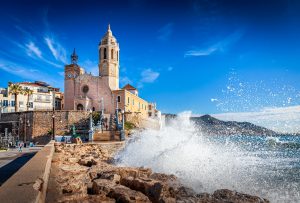 3. Tarragona
Tarragona is a port and provincial capital with a population of 115,000 located on the Costa Dorada and with a highly interesting Roman heritage. The region offers visitors a rich cultural heritage. It's also known for its excellent wines, such as those from Penedés, one of Catalonia's most famous wine-growing areas, located northeast of Tarragona. This city has beautiful beaches that you must visit, here are our favourite beach recommendations: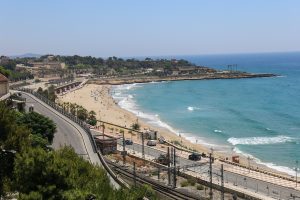 1.El Miracle is the city beach of Tarragona it is 500 metres long so you don't have to worry about finding a spot to sunbathe and swim.
2. La Savinosa is another clean beach that has been awarded the Blue Flag award. Surrounded by beautiful nature, it has sugar fine yellow-golden sand – like most of Tarragona's beaches – and mostly calm waters. La Savinosa is 350 m long and 30 m wide and, as a nudist beach, is never crowded.
3. Platja Llarga is the longest beach in Tarragona at 3 km. This beautiful sandy beach has calm waters and is ideal for relaxing
4. L´Arrabassada is close to the city centre. It's a family-friendly beach in Tarragona, so the atmosphere here is relaxed and the beach is one of the cleanest in the area. The beach is 550 metres long and 65 metres wide, with showers, cosy beach bars and a wide variety of restaurants.
You can travel to Tarragona by bus, car or train from Barcelona. With the high-speed train you can get to Tarragona quickly and easily, as it only takes around 30 minutes.
4. Figueres-Home of Dalí
Figueres is in the province of Girona. It's on the Costa Brava, with a population of 46,654 inhabitants. Dalí fans will love this city, as it is the artist's birthplace. Besides the Dalí Museum, there are other great museums to visit. Figueres can be reached quickly by the high-speed train in 53 minutes. The train departs from Barcelona Sants station. 
5. Girona
Girona is one of the most historic places in Spain. Founded by the Romans, the city was later taken over by Moors and Franks before finally falling under the rule of Barcelona. Influenced by different cultures and religions, the city attracts its visitors with beautiful architecture. The Old and New Towns offer many opportunities to stroll through the city and experience local life and culture.
Some of the best sightseeing spots are the cathedral of Girona, the Masó house or Pujada de Sant Domenec, which might be interesting for fans of Game of Thrones. The best way to get to Girona is by high-speed train, which only takes 37 minutes and costs around 15 euros.