The Gothic Quarter, or "Barri Gòtic" is the historic centre of the city and a real labyrinth. It is a part of the Ciutat Vella (old town), along with  Ribera/Born, Raval and Barceloneta. It is a must-visit neighbourhood with several quiet squares where you can relax and admire its architecture and lots of local shops. Yes, you're spoilt for choice! The Gothic Quarter is always lively by night, and you'll find plenty of good places to have a drink or go dancing. Here are some of our favourite spots to visit by day and night in this lovely neighbourhood.
What is in the Barri Gotic?
One of the main attraction in the heart of the quarter is the cathedral Santa Creu i Santa Eulàlia, a Catalan Gothic Cathedral built between 13th and 15th centuries. The Cathedral is dedicated to the martyr Santa Eulàlia, patron saint of Barcelona. Its cloister is impressive, with orange trees, palm trees, magnolias and even geese. There are 13, and according to the legend they represent the age of just 13 when Santa Eulàlia was put to death for refusing to renounce her faith.
The interior of the cathedral is particularly impressive in the light of dusk.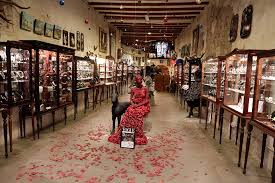 After visiting of the Cathedral, you can head to Plaça Sant Jaume, exploring the streets and going underneath Pont del Bisbe. You'll find an amazing shop of creative jewelry there, called La Basilica Galeria. They have unique items, and wide range of prices, displays are wonderful. There are models of animals made of silicon leaves, rose petals strewn over the floor, fluffy animal heads and much more.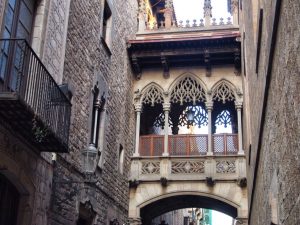 Once in Plaça Sant Jaume, once the Roman Forum of Barcelona, you'll find Casa de la Ciutat or Ajuntamiento (Council House of Barcelona) and the Palau de la Generalitat de Catalunya. Throughout the year you can also catch Sardana dancing every Sunday afternoon, and the famous human castle-building – Castellers – during the Mercè festival in late September.
Carrer Ferran will guide you to Plaça Reial from Plaça Sant Jaume. There are a lots of restaurants and bars in Plaça Reial but if you're looking for a quiet spot, we'll recommend you other places to go later in the article. However, there's a really nice night club in Plaça Reial called Jumboree. It's smaller than other clubs in Barcelona, you feel more comfortable and the music is really good. Some restaurants around the club sometimes give free entry tickets, a good tip is to have dinner and then go out for almost nothing!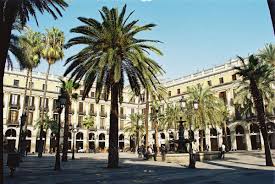 Basilica de Santa Maria Del Pi is also a must-see. Built in 14th and 15th centuries, this Gothic church has a unique and huge nave, which is very impressive. The area around the church is also beautiful.You'll find a weekend market with paintings, good tapas restaurants the smaller side-streets and other local boutiques. Located between the Cathedral, Plaça Sant Jaume and Plaça del Pi, you'll find El Call, the Jewish Quarter which is a pretty labyrinth of narrow streets.
Explore old antique stores
The real beauty of the Gothic Quarter is its interesting little streets and alleyways. There are many local boutiques in this area, and some of the best ones are in Carrer d'Avinyó, the street that inspired Picasso's famous painting Las señoritas de Avignon (Las señoritas de la calle de Avinyó). With a mixture of styles, environments, and people, for us and for the most local people, this street is one of those that most represents what is Barcelona: cosmopolitan, modern, traditional and with a lot of tourism. You'll find local shop to buy espadrilles, La Manual Apargatera; Le Fortune shop with glam vintage and designer clothes and Claudine with beautiful jewelry and other accessories.
There are many other shops like Zara, H&M, Mango and many others in Portal de L'Angel. Stroll around, open your eyes wider and enjoy all that this street gives you.
Bars and restaurants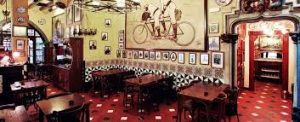 Els Quatre Gats is a neo-Gothic cervecería dating back to the 1890s, where Picasso held his first exhibition. The painter also used to go there for drinks with friends. La Fonda, next to La Rambla, is known to offer food service, delicious meal and to be affordable too. Milk Bar & Bistro is another good place, but for brunch this time. The food's really good and affordable as well. It's a chill spot in the small streets of the neighbourhood with a comfortable and cool décor. But you won't find typical Spanish dishes, the food is more American. The spot's really popular so you might have to wait to be seated.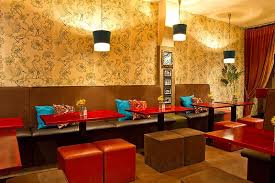 Mariatchi is the bar owned by Barcelona musician Manu Chao's bar. If you're a big fan and like small and local places, you definitely have to go there. The bar is a little bit difficult to find, hidden in small streets of Barri Gòtic.
With walls in bright colours, lot of pictures, small tables in various designs, this place is lovely with full of locals. El Bombón, in Carrer de la Mercè offers amazing mojitos, piña colada and whatever you like to drink at low prices. This is one of the best quality-price spots I've found in Barcelona so far. The staff are really nice, the atmosphere is amazing and it is always full of people!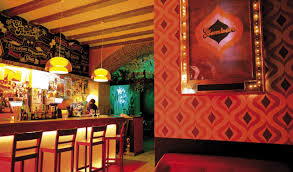 Marula is a funky bar and club in the Gothic Quarter. There are free Jam Sessions after 11:30pm on Wednesdays and Sundays. It definitely worth a visit if you like jazz, soul, RnB music.
Some museums to visit : Wax Museum close to the Ramblas, Museu d'Història de la Ciutat de Barcelona.