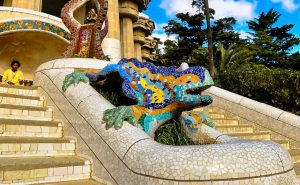 Antonio Gaudí's spectacular Park Güell is often overlooked as being simply the home of the world's most famous lizard. Most will have come across this notorious mosaic creature, known as 'El Drac', in souvenir shops in Barcelona. The reptile features on key rings, magnets, shot glasses, dodgy tattoos…even in showstopper films such as The Cheetah Girls 2. Now the national emblem for Barcelona, it has become almost a duty for tourists to visit this magical lizard in Park Güell, mostly in the hope of achieving a banging Snapchat story.
However, whilst the lizard is undoubtedly the hub of tourist attraction, there is so much more to Park Güell than our four legged friend, and I am sure that Gaudí intended more for his mosaic masterpiece than for the lizard to become the epicentre of tat. So here I seek to encourage Park Güell visitors to put down their selfie sticks and look beyond the lizard, to view and understand Park Güell as the national treasure that it is.
A story behind every stone
As with all Gaudí's work, every piece of Park Güell is there for a reason. His meticulous planning and thought towards each brick, bench or building ensures there is a story behind every stone. This is partly due to Gaudí's use of trencadís, a technique which forms mosaic out of broken pieces of ceramic or tile (yes, the world famous lizard is actually made out of broken plates). The tales behind each piece of mosaic make a guided tour significantly worthwhile if you want to uncover the secrets of Park Güell.
Nature and the Natural World
Gaudí enthusiasts will already know that the heart of his work centred around nature. Park Güell is therefore particularly special in the sense that it unites Gaudí's passion for the natural world with nature itself. The merging of these two concepts can be seen all over the park; the famous winding bench is designed like a serpent, the chimneys of the buildings are shaped like mushrooms, and Gaudí even placed small holes in the benches of Park Güell to collect rainwater for the plants.
History

Park Güell was never intended to be a public park. In 1900, Gaudí was commissioned by Count Güell to design and build him what would effectively be a private city for the Barcelona elites. Indeed, Güell's exclusive and overambitious plan was not to be. The location, lack of transport system and complicated antiquated buying laws made purchasing a plot in Park Güell unappealing, and the lack of buyers eventually saw the dissolution of the project in 1914.
For some years the Güell family lived in the large family house at the top right of Park Güell (now a school), whilst Gaudí lived in another red brick house (available to visit as a house museum). During his life, Güell allowed the park to be used for private cultural events, particularly traditional Catalan sardana dancing, but after his death in 1918, the City Council purchased the park, which opened to the public fully in 1926. Park Güell was declared a UNESCO World Heritage Site in 1984.
What to know before you go…
Essential viewpoints

Be sure to push on up the hill to the the highest point of Park Güell, Turó de les Tres Creus (The Hill of the Three Crosses). Gaudí had intended to build a small chapel at this point, but during construction they found some prehistoric remains. Gaudí instead used the remains as inspiration, crafting the monument so that it subtly parallels historic caves.
You can go for free!
Although taxi drivers frequently drop you at the main ticketed entrance of the Monumental zone, you do not need to pay to walk around the rest of the park. However, if you're not of the overly stingy calibre, or can manage to hold off on that last chupito at Razzamataz, a General Admission ticket will offer you entry to the Nature Park and of course, to see 'El Drac'.
La Música

The buskers of Park Güell are the unsung heroes of Barcelona. Singers, guitarists, people playing instruments you never even knew existed. These talented musicians contribute to the serenity and charm of the park, so take your time to sit and enjoy them.
Lazing on a sunny afternoon…

It might sound a little Captain Obvious, but visiting Park Güell on a cloudy day is just not the one. Clouds will block your otherwise faultless panoramic view out to sea and you will leave having walked a long way to the top for a distinctly underwhelming view. That said, if you're off for a trip in the midday sun, do not forget water – Park Güell is on a serious hill.
Useful Information
Tickets:                      General Admission: €7
General Admission + Guided Tour: €14
General Admission + Private Tour: €43
General Admission tickets do not include entry to the Gaudí House Museum, which costs a separate €5.50 online or on the day. Also be sure to purchase tickets online in advance, they are more expensive to buy on the day.
Opening Times
January 1st to March 25th                     08.30 – 18.30
March 26th to April 30th                       08.00 – 20.30
May 1st to August 27th                                08.00 – 21.30
August 28th to October 28th                08.00 – 20.30
October 29th to December 31st            08.30 – 18.30
Directions
Metro:             Lesseps (prepare yourself for a 10-15 minute uphill walk)
Bus:                 Lines H6, 31, 32, 24 and 92