Barcelona is a city known internationally for many reasons: the food, the friendliness of the people, the beaches, the great weather… However, it is undeniable that one of the main reasons tourists are attracted to the city is the parties, without a doubt. In this city, you will find wh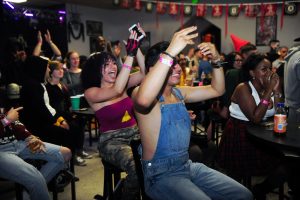 atever style of party you like! From 80s music and pop rock to reggateon and trap, there is always something new to discover! Thanks, in part, to its great range of options, it can be difficult to find which the best places to go out are or which are the ones you and your friends will like the most (or even which are the best prices…). Because of this, going on a Pub Crawl in Barcelona is a very good option. You do not know what one is? Do not worry, we will tell you all about them.
A Pub Crawl is, basically, a party that tours. They are usually done in cities like London, Rome, Budapest, Prague, etc… Or, as in this case, Barcelona. Pub Crawls organise a route through the best bars and clubs in each city so that in one night you can live diverse experiences, this way you can see all the fashionable places in the city and meet locals and travellers alike! Furthermore, these guides also play drinking games with people on the tour, discount on drinks in each place, offer free shots, club entry… everything you need to have an unforgettable night. Also, depending on the tour you choose you could get free food and drink, pictures throughout the night or even VIP entry in clubs. Obviously experiencing a Pub Crawl in Barcelona is not free, they usually cost between 13€ (if you book in advance) and 15€ (if you buy directly on the day). It is not an expensive price for what it offers.
Best Pub Crawl in Barcelona:
Without further ado, we present you with a list of the best Pub Crawls in Barcelona that you can find here:
Each tour has it´s own proposed route with distinct bars and clubs where you will spend an unforgettable and incredible night. So now, the only thing you have to do is read up on the programmes each tour has to offer you and choose which one you like the most, or the one that best fits your style of party! And what happens if you still cannot decide on one ? Well, in that case, whatever option you choose will be great because you will, certainly, be shown places you don`t know. Discover the wildest part of the city with a Pub Crawl in Barcelona.