La Rambla, possibly the most iconic avenue in Barcelona, located in the center of the city.  It is almost a mile long starting at the famous, Plaça Catalunya, and ending at the Monument A Colom.  Tall trees line the wide street on each side along with hotels, tapas restaurants, and kiosks selling all types of souvenirs.  It is a must-see for a first-timer in Barcelona. 
Here are the top five highlights to keep an eye out for when walking down La Rambla:
La Boqueria

La Boqueria also known as Mercat de Sant Josep de Boqueria is one of the largest tourist attractions in Barcelona bringing in thousand visitors a day.  A main entrance is right off of La Rambla.  The large market has numerous merchants selling all types of Spanish and Catalan foods, such jamon serrano and various tapas.  There are also bakeries, various fruit stands, and many types chocolates.  One of the best deals are the fresh smoothies and juices at 1€.  A few flavors they serve are strawberry & coconut, pineapple and orange, coconut & mint, and so much more.  With such an affordable price, it is easy to taste more than one. 
La Rambla: Shopping, Shopping, Shopping
La Rambla is filled with all types of shops from internationally-known brands to local boutiques with products distinct to the beautiful city.  A few stores to name are Mango, Zara, H&M, and Desigual.  When walking down the main path of La Rambla there are hundreds of shops on each side of the street and even more should you decide to walk through one of the tucked in streets.  In addition to the stylish clothing stores, there are many souvenir kiosks and larger stores to purchase gifts for home. 
Liceu
The famous opera house, also known as Gran Teatre del Liceu, has had a significant role in the arts and music community in Barcelona since 1847.  The opera house is halfway down La Rambla.  It has six levels and has golden detailed architecture.  It is the venue for hundreds of operas, ballets, orchestras, and student recitals annually. The schedule for the rest of the year and parts of 2019 ar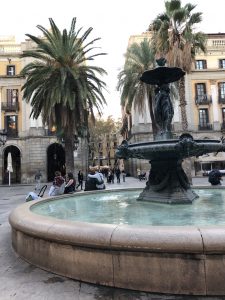 e available online.
Plaça Reial
The "Royal Plaza" as translated into English is a picturesque plaza in the center of the Gothic Quarter of Barcelona.  The entrance is off to the left of La Rambla when walking from Plaça Catalunya.  The plaza has a fountain in the center with trendy bars, restaurants, and dance clubs around it.  Although like much of the city,  Plaça Reial comes alive in the evening with tourists and locals kicking off their festivities. 
Rambla Del Mar and Port Vell
Rambla Del Mar and Port Vell are at the very end of La Rambla.  It is marked by the famous monument of Christopher Columbus and the view of the Mediterranean Sea.  Rambla Del Mar is the wooden walkway that gives you special views of the city and ocean. Port Vell begins as La Rambla ends.  You may see the many yachts and boats parked at the harbor.  There are booths in this area, where you can purchase special boat and ferry tours.  These tours can give you unique views of Barcelona from riding on the ocean.  If not a boat tour, it is still a wonderful option to walk along Rambla Del Mar or take a break on one of the benches to enjoy the view.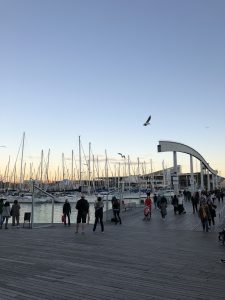 La Rambla is a central location and very easy to get to it with public transportation, such as metro or bus.  Simply, ride any of the metro lines or buses that stop at Plaça Catalunya and you will only be about a block away from the famous street.  Keep in mind that La Rambla is definitely crowded during high-season and is notorious for pick-pocketers.  However, don't let that stop you from visiting a world famous destination and one of the top attractions in Barcelona.