Football is one of the main attractions in Barcelona. The worldwide famous Football Club Barcelona offers visitors the possibility to visit the Camp Nou, the biggest stadium in Europe. The "Camp Nou Experience" tour includes the visit of the stadium but also the museum, which will allow you to know more about the rich history of the club.
The museum includes an intuitive multimedia section which explains in details the history of the club. The shirts of the most important players who made their mark on the history of the club as well as the trophies the team won are also displayed in a showcase. Furthermore, an entire space is dedicated to Lionel Messi, where you will be able to take pictures with the 5 Ballons d'Or of the Argentinean genius. A room in the museum will also tell you about the success of the team in the European Competitions.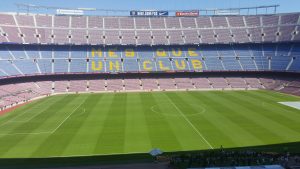 Once your football culture has been updated, you will escape through a window to enjoy a fantastic view of the inside of the stadium. You can sit on the terraces to have a little rest before going inside the stadium to have a look at the away side's changing room, the press room and the mixed zone. You will also have the opportunity to feel like a true football player or a sports commentator as you will be able to sit on the team benches and commentary boxes.
At the end of the tour, you will arrive at the FC Barcelona Official Store. The store is 2000m² large and you can find all sorts of football equipment but also more unusual memorabilia for a sport store, such as glasses, mugs, even pasta… everything in the club's colours.
The tour is 25€ for an adult, 20€ for youth (from 6 to 13 years old) and for senior (above 70 years old) and free for child less than 6. You can get your ticket online on the FC Barcelona website or directly on the spot.