If the notion of designer labels at bargain prices tantalises your inner fashionista, look no further than La Roca Village. Located just 40 minutes from the city centre, this high-end fashion outlet is home to more than 130 prestigious brands, with a ubiquitous discount of up to 60%. Its line-up of luxurious retailers include Versace, Michael Kors, Swarovski, TAG Heuer, Superdry, Vivienne Westwood, Le Creuset; to cater for the various needs of Barcelona's fashion-conscious. Whether you lean towards the retro-chic image or seek the top street style trends, La Roca Village ensures to fulfil your couture desires and provide an exclusive shopping experience.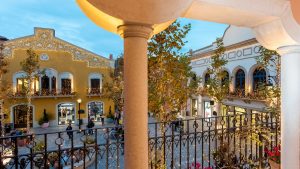 In addition to its expansive selection of swanky boutiques, tourists and locals alike flock to this well-manicured retail avenue for its quintessential Mediterranean style. Simulating a traditional Catalan town, this picturesque village is commended for its authenticity, right down to the intricate detailing of its architecture. From its adoption of the modernist trencadís technique (a favourite of the national treasure, Antoni Gaudí), to the region's wonted colour palette of deep yellow, beige and orange, this charming village is both a shopper's paradise and an insight into Catalan culture.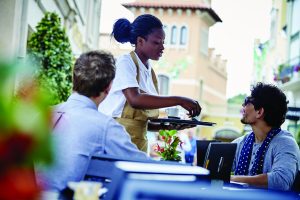 With La Roca Village stretching 1km from top to tail, traipsing up and down its shopping strip in search of your best-loved brands can be exhausting. Fortunately, the outlet offers a diverse range of dining options to suit all tastes and visitors, whether you're a family on the move or a couple looking to enjoy a romantic meal. Whilst Mori by Parco boasts an exquisite menu of Japanese sushi and sashimi, Lobby Café Restaurant and Market prides themselves on high-quality fast food. Alternatively, Andreu is a sophisticated and family-run charcuterie, rich in Mediterranean flavour, as is Pasarela with its regional culinary dishes of gastronomic excellence. For those with a sweet tooth, Amorino is renowned for its sublime ice creams, which perfectly accompany a Starbucks frappuccino.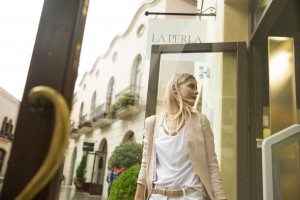 To add that extra pizazz to your trip to La Roca Village, it is highly recommended to take advantage of their host of hospitality services, designed to enhance their guests' shopping escapade. Their Shopping Express coach service connects Barcelona (Passeig de Gràcia, 6) and La Roca Village, to allow for a comfortable and hassle-free travel experience. What's more, coach riders will receive a VIP Savings Card which entitles them to a complimentary 10% off at the village. With the unceasing discounts, and consequently infinite shopping bags, La Roca Village's Hands-free service provides that extra special touch, allowing you to continue your shopping expedition unencumbered, whilst your shopping bags are collected for you.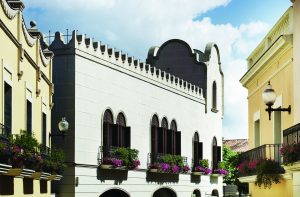 Several other enticing services include instant tax refund for visitors outside the EU, a personal shopper, a tourist information centre, multilingual staff, a currency exchange service, halal-certified cuisine, free-wifi and gift cards. La Roca Village also partners with several frequent flyer programmes so that you can swap plane hopping for shopping, and earn miles with Avios, Miles&More, Flying Blue, Etihad Guest, Phoenix Miles and Aeroflat for your purchases.
Many parents would unite in saying that a shopping trip with young kids tends to end in tears, due to sheer boredom and their need to expend some energy. With the two outdoor playing areas at La Roca Village, you and your partner can take it in turns to look after the little ones as your lucky other half indulges in some well-deserved retail therapy. The outlet also has baby-changing facilities, bottle warmers and pushchairs available on loan.
If you'd rather swap the top-end prices of designer shops on Passeig de Gràcia for discounted luxury goods, La Roca Village is open Monday to Sunday and welcomes all in search of a unique shopping experience. Vamos!