Barcelona is a wonderful city which has a lot of beaches. The most popular one is obviously La Barceloneta as it is quite close to the centre of the city, but it is certainly not the best one to enjoy a tranquil day sunbathing and going for a dip. You might get annoyed all day long by mojitos or beers-sellers and, the beach can be quite dirty from time to time.
Here are 3 beaches where you can enjoy your Barcelona holiday even more: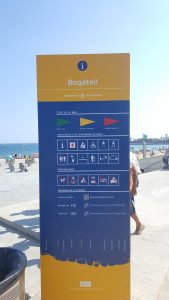 La playa del Bogatell
for its tranquillity
As we are currently in the tourist season, the tranquillity of the beaches is obviously altered and Bogatell beach is also affected, but it remains probably the calmest one. The beach is very large and long so you can lay down without any problem and enjoy your day. Furthermore, beach volley tournaments are sometimes organized and anyone is invited to play, so if you feel like showing off your beach volley skills, feel free to join them!
La playa del Bogatell is located right after la playa de Nova Icària, you can take the bus H16 to go there.
La playa de Nova Icària
for the cleanliness of the water 
La playa de Nova Icària is also a very long one. It's a bit busier and beach volley nets are more present on this beach. However, the best perk of Nova Icaria is obviously the cleanliness of its water. Indeed, if you sit down at the middle of the beach, you might be pleasantly surprised by the purity of the water. You can access this beach if you stop at Ciutadella Vila Olimpica with the metro line 4.

La playa de Mar Bella
for its diversity
La playa de Mar Bella regroups a lot of different age groups. From children to seniors, everyone has a good time there. You can rent a book from the biblio-playa during the summer. La playa de Mar Bella is a nudist one (it is protected by a sand dune to avoid voyeurs) and it is also possible to play beach volley there. It is located right after la playa del Bogatell.
Note that if you go during the week, the beach will be much less busy so that you can enjoy yourself better!