Barcelona is quite a large city that is full of things to see, activities to do and food to try, therefore it can result in it being hard to do it all in a small amount of time. What's more, the ideal to be able to see the city in its full and lose yourself someday to see its´ beautiful surroundings it to be in Barcelona for a week. Yet still, it is possible to see the most important sights and spend 48 hours in Barcelona and not be exhausted in trying… do you want to know what is the perfect itinerary and the best tricks? Barcelona Connect reveals all the secrets to spend a perfect weekend in Barcelona!
48 hours in Barcelona
Day 1: Historic Centre, Beach and Parties
Start your adventure in the city! What is the first thing we should do? Well, without any doubt, a free tour. These tours of the city are completely free, they last approximately some two hours and they usually have guides who are local or people who have spent many years living in the city. Although there are many distinct types of tours (Gaudí, tapas, war, Raval, etc…) we recommend th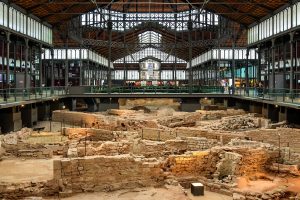 at you do one that teaches you about the historic city such as Las Ramblas, El Palau de la Genralidad, the Jewish quarter. So that they explain the history of the whole city, as that is vital to understanding the unique character of Barcelona and its current situation. The majority usually begin in Plaza Catalunya or Plaza Urquinaona and finish in the area of the El Born Market, where they will explain to you the tumultuous story of the neighbourhood, the charm of it day to day and the archaeologist remains for the Born Centre Cultural.
Once you have completed this tour (Don't forget to give money to the tour guide for their work!), the best thing to do is to go and visit the Parque de la Ciutadella and Arc de Triomf. If you didn't on the tour, as they are next to El Born and you will not lose any time.
We are sure that after a morning full of walking around the centre, you will have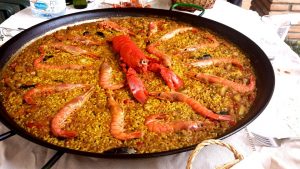 worked up an appetite. Well you are in luck because Barcelona is one of the best cities to eat in. This is down to being able to find as much Spanish food, which is delicious, as you can food from whatever cuisine you desire. We suggest that you, as you are near the beach, walk towards Barceloneta and find a good site there where you can find a paella to eat next to the sea.
In your 48 hours in Barcelona you cannot miss out of visiting Passeig de Gràcia, one of the most famous and prettiest roads in the city, where we will be able to see the wonderful mix of modernist architecture and even go shopping to the most exclusive shops. Once you are here it is compulsory to visit the crown jewels of Passeig de Gràcia, the Casa Batlló and la Pedrera.
It's time to eat! In the centre of Barcelona you will find all types of restaurants where you can taste delicious food, there are endless possibilities and restaurants.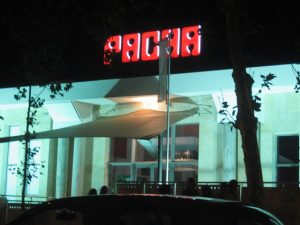 After having eaten, and making the most of what remains on our trip of 48 hours in Barcelona, is a good time to go out and have a drink or food in the city and discover Barcelona at night. If you want to go and party you either can go to the Olympic Port (for tourist clubs) or to Marina neighbourhood (Bars frequented by locals and smaller clubs, except for Razzmatazz).
Day 2: Gaudí, Museums and Views
To start our second day in Barcelona, the idea is to get up early to visit the great work of art by the genius and architect, Antoni Gaudí, the Sagrada Familia. Without doubt, we recommend that you buy entries beforehand in order to avoid queues, and if you have the chance, that you contact a tour so that you can learn about all the details of this great modern temple. Once you leave here, go towards Park Güell in order to visit this great outdoor space. We also recommend that you take advantage of the sun in Barcelona, prepare some sandwiches and have a little picnic there, so you save time to see more of the city.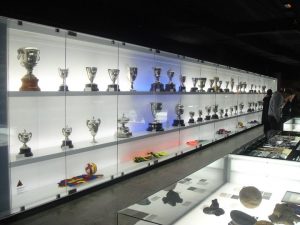 In the afternoon, there is time to visit a museum. Barcelona is a city full of culture with so many museums; therefore it will be hard to choose only one. Although, there is obviously the most popular museum of FC Barcelona, where you will be able to visit the football pitch as well as the museum where they keep all the relics of the club.
At the time of sunset, you can choose between two plans: Going to see the fantastic spectacle of the Montjuïc fountains or going to the Bunkers del Carmel. For the first, you will be able to watch a spectacle of water, lights and colours accompanied by music that is truly great to watch. On the other hand, if you go to the Bunkers del Carmel, you will be able to see one of the best panoramic views of the city in a very interesting and historic place. The choice is yours.
For your evening meal, we suggest that, as Barcelona is a coastal city with a great maritime
tradition, you try a nice plate of seafood in one of the most famous restaurants in the city.
To finish the night, you could go for a couple of beers at the lively Ovella Negra bar or some of the most astonishing bars in the city like: Bobby´s free, Ice Bar Barcelona, Kahiki, Nevermind or Paradise.
Although it is possible to see the most important parts of Barcelona in only two days, you are always going to leave something to visit. If you are one of the lucky ones to have more than 48 hours in Barcelona to enjoy, we recommend that you make the most of one day and leave the city, like going to Portaventura, an excursion to Cadaqués or some town of the Costa Brava, spend a day in the mountains of Montserrat or visit Girona or Tarragona. Barcelona has so many things to do! And you, are you going to miss out?