Barceloneta has some of best restaurants in Barcelona. It's is an obvious local favourite with the most memorable meals and best seafood in the city. However, few tourists branch out to Barceloneta for an evening meal; maybe because the neighbourhood is more local and traditional than others in Barcelona, with a strong and charming community vibe; or maybe because it is separated from most of the city, as it is surrounded by the Port and sea.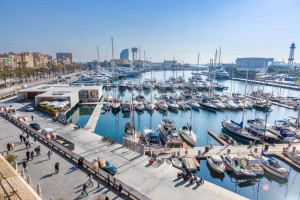 Whatever the reason restaurants in Barceloneta are truly underrated and have some of the best most genuine and authentic Spanish and Catalan food in the whole city. One thing is for certain is that the restaurants in Barceloneta have unrivalled seafood and wonderful tapas. This was the city's former fishing quarter, making the neighbourhood an ideal spot for tourists who want to become fully submerged into the Catalan community.
The evening is possibly one of the best times to explore this little neighbourhood. Unlike the major tourists stops Barceloneta comes a live at night with the restaurants filled with locals and the busy bars serving cervesa after cervesa.
La Cova Fumada
La Cova Fumada is real family affair, having been run by the same family for over 50 years and three generations. Expect classic Catalan tapas for a great price and good portion. The family-run business makes anyone and everyone welcome; with their food and service, it will make you feel like a long lost relative. Their good, honest food can be enjoyed by all ages and the atmosphere and family orientation is unparalleled – and as genuine and authentic as the tapas.
Tip: Finish the meal with a signature coffee (Carajillo Pirate and Carajillo Cariñosa)
Address: Carrer Baluard, 56
El Vaso de Oro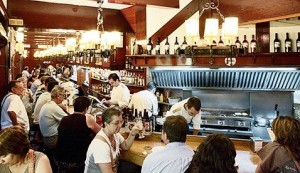 The long and narrow El Vaso de Oro is always brimming with people. Lively and fun but certainly not spacious, you will find a table with stools if you're lucky! However, the staff and atmosphere is great, with traditional tapas on offer. The foods being cooked behind the bar and you can watch with great anticipation as they griddle your steak foie gras (highly recommended) as you sip on your homemade, hoppy beer. The cook is the centre of attention but the white-coated bar man aren't far behind. For a fabulous and entertaining evening in an overcrowded bar, where food is key and a sense of humour essential then El Vaso de Oro won't disappoint.
Tip: Try the steak foie gras (solomillo con foie) for a real treat, as well as beer. There is no wine here and the beer is full of flavour and homemade
Address: Carrer de Balboa, 6
La Bombeta
Warm and lively with a real mixed crowd, La Bombeta serves the greatest selection of traditional Catalan tapas. A favourite with the locals, the yacht owners, fisherman and tourists, this is one of a kind, even amongst the numerous unique, quirky and crazy restaurants in Barceloneta.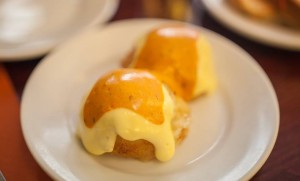 Informal and typically Spanish, this is a great holiday feel good moment, especially as the waiters don't speak English! There is an array of classical and authentic tapas, not solely fish, allowing visitors to dine just like the locals and experience the best parts of the Catalan cuisine. Infamous for their bombas; huge spicy, deep-fried, mince and potato balls, these are the Catalan take on (and in addition to) croquettes, served with aioli and are absolutely divine. As well as this you will find great meat, veg and fish dishes.
Tip: Unlike most places in Barcelona the staff can't speak English so you will have to try your best to communicate with them… If you can, then ask for artichokes as an additional delicious dish with your bombas.
Address: Carrer de la Machinista, 3
Can Maño
The ever-popular Can Maño may not look the obvious choice to indulge in some delightful seafood and tapas but it is a true gem and favourite in Barceloneta. Waiting for a table here is normal but you can order some drinks while you soak up the atmosphere and anticipate what's next to come. The reason this is one of the best restaurants in Barecloneta? It is because they serve the some of the most gorgeous and amazing seafood in Barcelona at the lowest of prices. This isn't the place for those desiring fine dining, the service is fast and interior basic, here it is all about serving a great plate of cooking. With a strong emphasis on frying and seafood there are also a few other great dishes so be sure to ask about them.
Tip: Expect to wait so don't arrive starving!
Address: Carrer del Baluard 12