To visit a new city is something very exciting that we all love to do, but sometimes, unintentionally or through lack of information, we make some tourist mistakes in Barcelona that can make us have a bad time, or even, ruin the trip. Therefore Barcelona Connect brings you the best advice to be able to enjoy your trip to the fullest.
The main tourist mistakes in Barcelona
1-Fying to Girona or Reus
Undoubtedly the first mistake you could make when planning your trip to Barcelona is not flying to the Barcelona´s official airport, the Josep Tarradellas Barcelona- El Prat Airport. Many people choose flights to Girona or Reus Airport because they are usually a lot better priced, but the truth is that they are both very far from Barcelona (approximately 2 hours away) and it is not worth losing so much time to arrive in the centre of the city. The ticket to get from these cities to the centre of Barcelona usually cost between 8 and 18 euros depending on the public transport you use.
2- Visiting Barcelona in the summer months
One of the most common tourist mistakes in Barcelona is visiting our city in the summer months. It makes sense that people make the most of holiday season togo on their trip, but we wholeheartedly recommend avoiding Barcelona in this time of the year. The problem is that during June, July and August; so many tourists come to the city that it is impossible to enjoy it as much as you should and it can even become quite overwhelming. It is because of this that all the locals get away from the city at this time as well, consequently you will only come across the Barceloneses that are going to be working through the summer.
3- Eating on Las Ramblas
Barcelona is a city where you can assume without any issue that it has excellent gast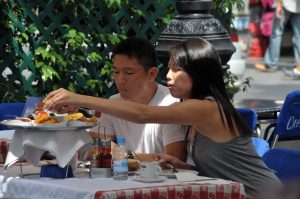 ronomic cuisines, due to this we suggest that you avoid the cost of eating on Las Ramblas if you don´t want a shock. Thanks to being the most famous street in the whole of Barcelona, virtually all of the restaurants there are pure tourist traps where they will probably serve bad food that is very expensive. Our recommendation is that you go through Eixample in order to find true gastronomic gems or that you look online to discover the best places to eat in Barcelona, where you will be able to find all sorts of food. Such as seafood, burgers, typical Spanish food, something cheaper, etc…
4- Overpay for accommodation
If there is something that really hurts us when we travel, it is the fact of having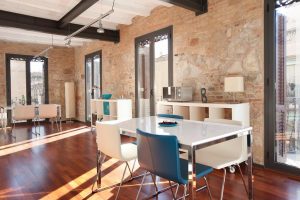 to pay a lot of money for accommodation that, unfortunately, is sometimes much worse than we expect. Therefore, if you do not want to overpay, we recommend you book your stay with the company AB Apartment Barcelona, the number 1 local company of tourist apartments in Barcelona. This company has more than 700 apartments spread throughout the city, so it is impossible not to find your ideal place! In addition, there are luxury apartments from €50 a night per head, are you going to miss this opportunity?
5- Buying single tickets on the metro
Sometimes choosing which type of transport to use, learning how to get around the city or not knowing what ticket to buy is complicated. For that very reason, to avoid another tourist mistakes in Barcelona we recommend that you get a metro ticket, which you can use for other city transport- like the bus, tram, train or railway as well. There are different ticket options depending on what you need:
– T-Casual: a single person for 10 integrated journeys
– Barcelona Card: They include entries to museums and diverse attractions, in addition to transport for the city
– T-día: unlimited trips in the same day
– T-grup: multi-person ticket that is valid for 70 trips in 30 consecutive days
6- Don´t hire a tour or do a free tour
Barcelona is a city with more than 4000 years of history, which is reflected in its historic exterior and in the architectural and cultural diversity that is around the whole city. As a result, if you want to learn how Barcelona has become such an open city to the world and understand all the changes it has gone through, it is obligatory to book a tour that takes you around all the city and explains to you the historic exterior, such as the modernist part.
Spoiler: the Roman Arc that is on the Plaza of the Cathedral of Barcelona is a reconstruction; remember that because many people think it is an original of the time!
7- Don't wear your swimming costume in the city
Another one of the worst tourist mistakes in Barcelona is to wear your swimming costume in the centre of the city as if you were on the beach. This act has many problems, as it was not only completely banned in 2011 to go away from beach areas and the harbour only in your swimming outfit, but that you can even be fined between 120 and 300 euros. Therefore, it is a disrespectful act to the Barcelona locals, for years the city has been fighting to clean the image of the city and not advertise itself as "beach and drinking tourism".
8- Bulls, Flamenco and olé
Despite the general vision of Spain, the truth is that Barcelona shares very little with the culture of the rest of Spain. It is very common to find people that visit the city in the hope of seeing a running of the bulls (which has been banned in Catalunya since 2019) or a Flamenco show, but unless you go to a place just for tourists, you will not find anything related with this and that is local.
9- Fiesta, fiesta, fiesta
To come to our city only to party is another of the worst tourist mistakes in Barcelona. It is certain that Barcelona is known for throwing the best parties of Europe, but to say that alone is like scratching the surface. In this way, if you come to visit us you have to spend at least a few days seeing the city and discovering every corner. You will not regret it!
10- Not buying tickets in advance to main attractions
Due to the excess of tourism in the city, it is very possible that you have to queue long enough to be able to enter the "must see" of Barcelona. That is why we strongly recommend that everything you can buy in advance do it, since this way you will save valuable time that you can spend walking around Barcelona and have some drinks with your loved ones.
So you know, if you want to visit our city and not make the typical tourist mistakes in Barcelona, keep in mind our advice and get into the adventure of discovering a new city, every day it can bring loads of surprises!