Barcelona can be a very expensive city to have lunch or dinner if you don't know exacly where to go. That's because there are a lot of touristic restaurants that serves medium quality food at very high prices. So, if you are looking for the best cheap eats in El Raval while you are visiting the breathtaking city of Barcelona don't think twice and check out our top four around the Raval district for incredibly low prices.
Bun Bo Vietnamese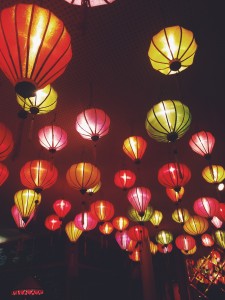 If you've had a bit of a tapas overload and you fancy something a bit different, Bun Bo, in the heart of El Raval offers you the perfect chance to transport yourself into the heart of Vietnamese culture and cuisine. Gorgeously decorated, with a separate restaurant and bar area, Bun Bo is a great place to go to get your fix of Vietnamese food or to try a completely new food in the city. The menu of the day comes in at a staggeringly low €10'60, where you get three plates and a drink between the hours of 1pm and 5pm. If one drink does not suffice you can get a mojito, sangria or caipirinha for just €3.50, which is probably one of the lowest prices around the city. Their main menu also doesn't break the bank, with starters like wonton fritos and lettuce cups, from as little as €3.55 and main meals such as Vietnamese curry and savoury pancakes, rarely going above €10, Bun Bo is a great cheap eat in El Raval.
Ofis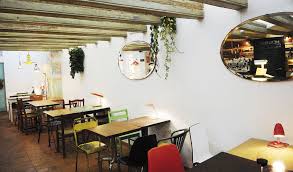 This Argentinian restaurant is the daytime hang out situated next door to its evening cocktail bar counterpart. Ofis Italian and Argentinian inspired food, a set menu where you can choose two mouth-wateringly tasty dishes, a class of wine, and a list of fabulous deserts and at an astonishingly low €12. The atmosphere in this quaint restaurant is second to none and the family orientated, independent vibe is only escalated by the incredible food they serve.

Rosa del Raval
A sister of Bun Bo Vietnamese, Rosa del Raval is a Mexican and Spanish fusion of food and drinks at staggeringly low prices. Like Bun Bo, the menu of the day includes three plates and a drink which runs from 1:00pm until 4:30pm and you'll even get change from €10 note, as this three course meal costs just €9, an amazingly cheap way to feed yourself and the family. If you fancy another drink on top of the one included in the menu of the day, a class of white or red wine costs just €2.90 and a caña of Heineken just €2.00. They also have a great range of exotic flavoured cocktails like pina colada or mango and watermelon. If the menu of the day doesn't take your fancy, or you want something a little smaller, their main menu still offers lots of great cheap options. Classic Mexican nachos with cheese and salsa are just €5.90 and Flautas, which are tortillas filled with chicken and salad are just €5.50. The mains are also reasonably prices offering you all the classic Mexican dishes right here in Barcelona. Quesadillas are €7.90 and burritos and tacos are only €8.90, what's more you can decide between prawns, vegetables, chicken, pork or beef as your main ingredient, so you can personalise them into your favourite meal.
Elisabets
A traditional, home cooking style cuisine which still comes under budget and is perfect if you want to get your fix of some typical Spanish and Catalan cooking. Elisebets is a popular destination amongst tourists and locals alike, their speciality must try dishes include scallops and vegetable lasagne. This informal atmosphere is unbeatable and their set dinner menu comes in at just €13.50, a bargain to make sure you test of the local cuisine of Barcelona, without blowing your budget.