Sure, you may have come to Barcelona in search of the perfect plate of tapas, not looking for burgers in Barcelona, but we've got them too. And they are tasty. Now, it looks like the humble burger is poised to become Barcelona's next icon. No longer a reliably monotonous menu item, burgers have become the standout dish at laid-back bars, cafes, and your fanciest restaurants. We're not just talking about a plain ol' burger either, but we're talking about fat, juicy burgers with that local Barcelona twist. From double-deckers of Pyreenean-raised beef smothered in romesco mayo sauce to the best meatless burger, we've scoured this city for the hottest burgers around, so you won't have to settle for a subpar burger ever again. Here you have our guide to the Best Burgers in Barcelona.
Bacoa Barcelona Burger Restaurants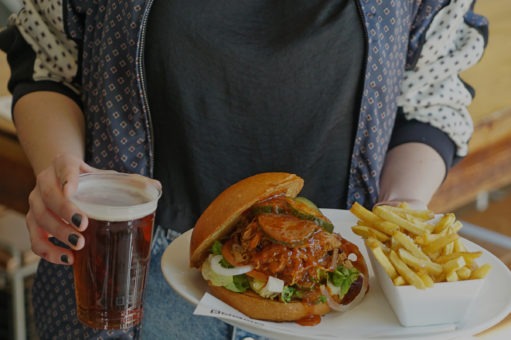 There's a reason both tourists and locals continue to flock to this small gourmet burger chain of Barcelona's favorite burger joint. Bacoa has every type of burger you could possibly want with the freshest ingredients possible, but their Montesa burger, featuring organic beef, black truffle mayo, Grana Padano cheese, and seasonal mushrooms ragout is our personal favorite. The classic Bacoa fries it comes with go great with this burger and if you have a few beers in the process, you'll be set for a while.
Cat Bar Vegan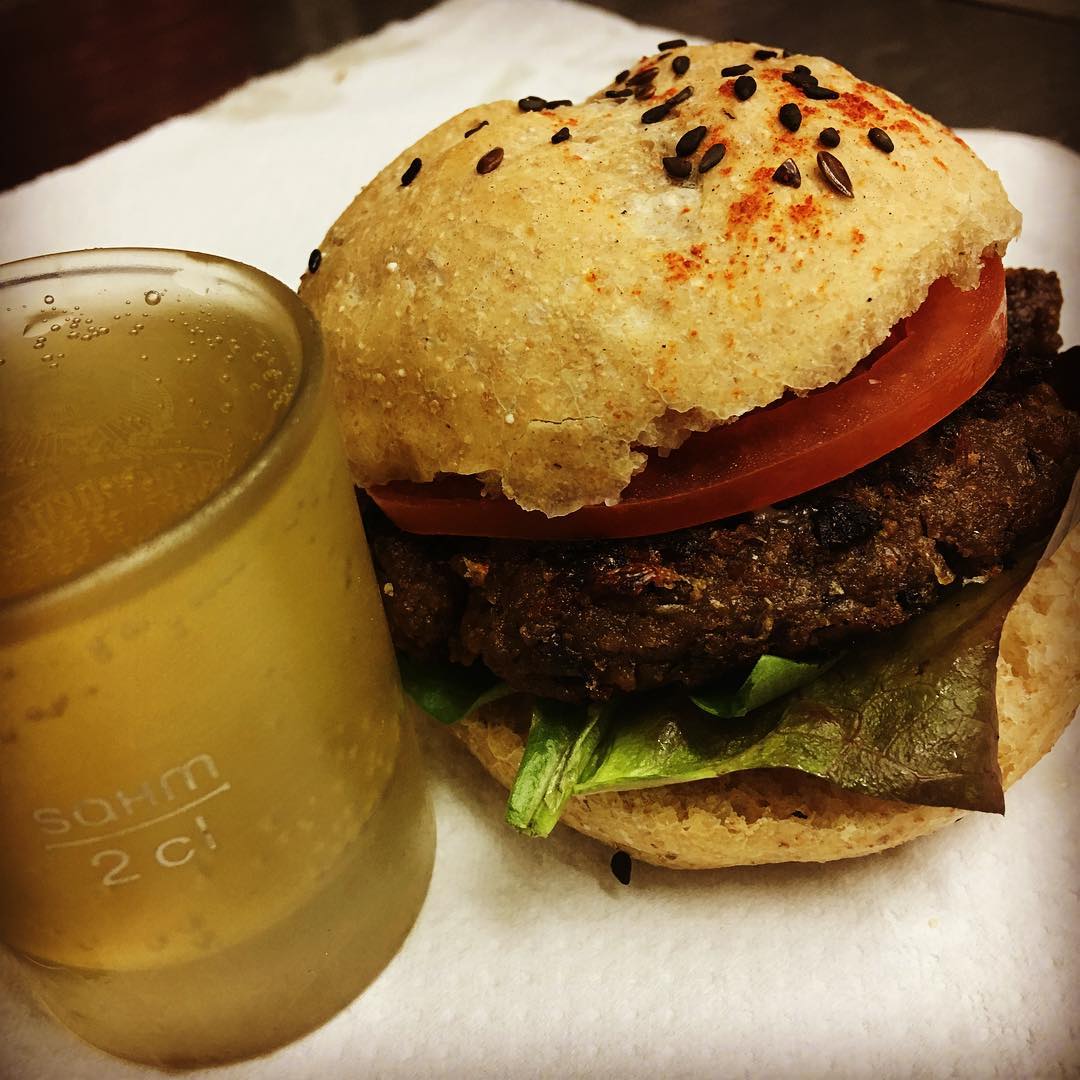 Who would've thought that a funky cat-themed bar would be home to Barcelona's best veggie burger? Beloved by vegans and non-vegans, Cat Bar is petite bar-restaurant with a vegan punk spirit, foam-licking-good Catalan craft beers, and an endless variety of the best meatless burgers. While you sink your teeth into their Crazy Burger, a seed/nut patty smothered with pesto accompanied with patatas bravas, lounge out to some smooth jazz playing from the live music there. Comfort food at its finest.
b Burger Barcelona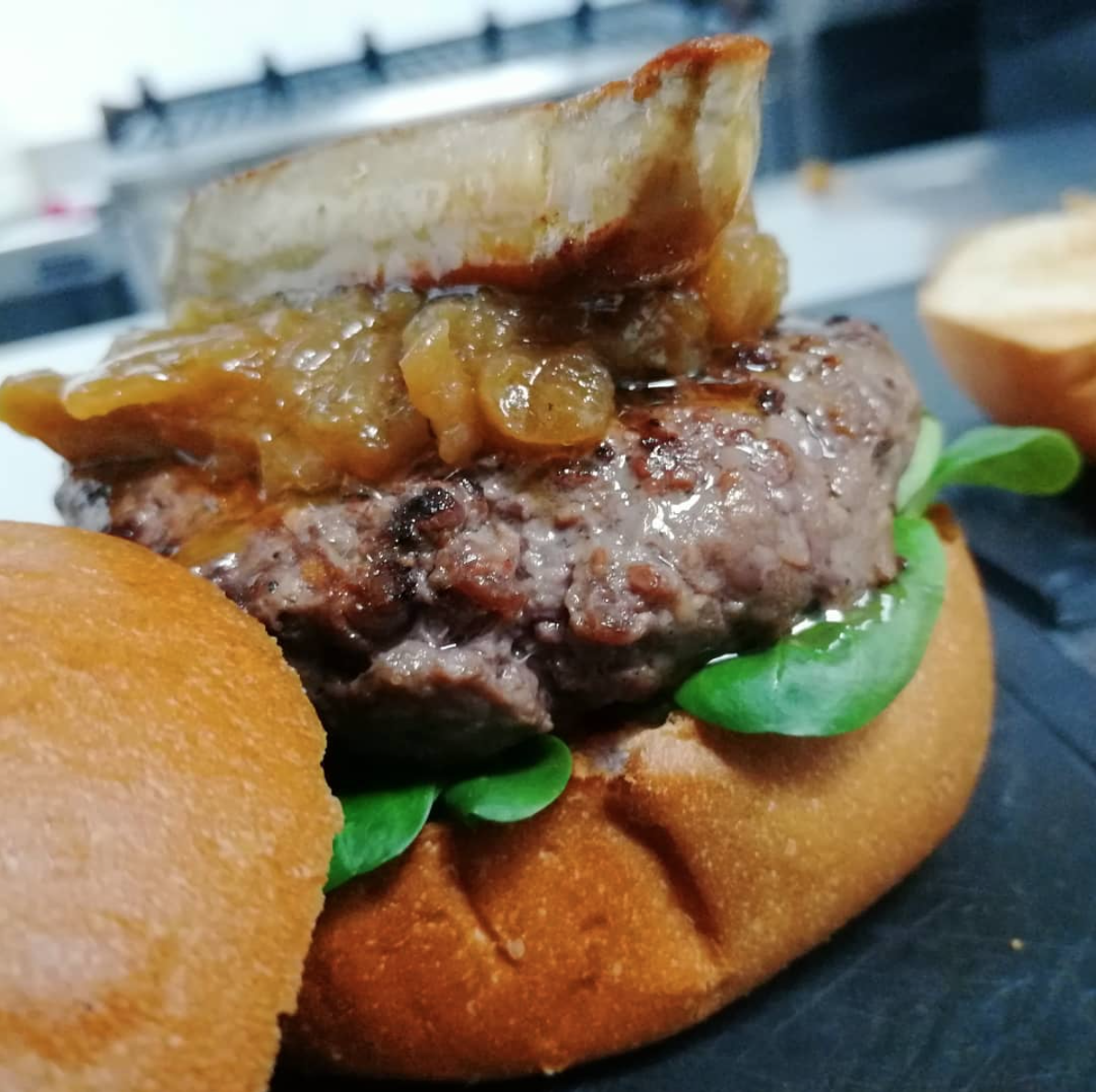 b Burger is the perfect burger spot when you're in the mood for fast food, but don't want to sacrifice taste or quality. The b-jamón serrano has everything that you never knew you needed in your burger–juicy beef, dried tomatoes, parmesan cheese, Iberian ham and truffle oil. Take note that these burgers are best enjoyed with their one of their locally-brewed beers. Follow up with their patatas bravas topped with their homemade spicy sauce and you'll be set.
Oval
Choosing a burger joint from our guide on the Best Burgers in Barcelona is already quite difficult, but choosing only one of Oval's famous 15 different sauces is going to prove to be one of the hardest challenges of your life. As one of the hottest burger spots in Barcelona, you can expect Oval to be packed with crowds of locals and tourists all day looking to create their masterpiece burger. Once seated, you are given a pencil and a check-off list to select the items you want to create your perfect burger. Load up your quinoa & beet burger with their infamous vegan chili and sauteed mushrooms or get a taste of their aged beef patty with cured Iberian ham. No matter what you choose, it's time to finally fulfill your burger fantasy.
Timesburg
If you're on the hunt for a delicious burger that is also insta-worthy, take a trip to one of Timesburgs eight burger joints scattered across Barcelona where you can find each burger bun stamped with their signature stamp-mark. With the option of 15 different burgers to feast on, you'll be sure to find your match-made burger in heaven with their gourmet selection of fresh ingredients. You'll feel as if you're fine dining with their fancy options of a Kobe burger that is made with wagyu beef accompanied with their french fries that are crisped to perfection in olive oil. Or get a taste of their famous goat burger which is filled with goats cheese, caramelized onions, blueberry confiture, and their special Timesburg mayonnaise.
La Royale
Want to take a trip around the world without actually having to take a flight? Take a trip to La Royale instead where the menu is divided into continents for your tastebuds to get an explosion of the many cultures. Not only will you find this hot spot dedicated to the fine art of juicy burgers made from scratch every morning, but you'll also find some tasty gin tonics to wash it all down. Sink your teeth into their infamous European Nordic burger–white veal, fine herb cream, onion, and Raiford mayonnaise. Or travel across the globe to Asia to get a taste of their Coreana burger–Iberian prey, mature beef, shitake, honey, and spicy mayonnaise. Find yourself stressed about what continent you want to feast on? Order their 5-mini burgers where you can select 5 burgers from their continental burger menu!  Life just got a whole lot easier.
No one burger reigns supreme; rather, they all complement each other in making Barcelona an excellent burger-eating town. So put down the kale salad, steer clear from the organic juice places, and keep walking past your pilates gym–it's time to treat yourself to one of the gems on our list of the Best Burgers in Barcelona.