For anyone who wants to escape the hustle and bustle from Barcelona, there is the option to go on a road trip! This way you will replace the crowded streets of the city with beautiful roads and marvellous views on the Mediterranean Sea. If you want to explore Catalonia, then this article is exactly what you need, because we will show you the ultimate road trip from Barcelona!
Sitges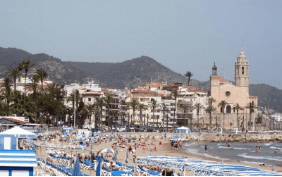 Starting off in Barcelona, you'll start driving South with the Mediterranean Sea on your left. After 45 minutes, you will reach a lovely coastal town called Sitges. It is a very popular place for tourists because of its beautiful beaches! Moreover, there are lots of things to do in Sitges! For instance, you can enjoy the vibrant and dynamic party vibe at night. It is also a great place to do some shopping, as there are plenty of shops spread across the city centre.
Tarragona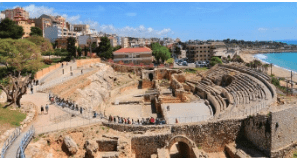 After spending some quality time in Sitges you continue your journey. Follow the med and you will be able to see some amazing views! Along the way, there are many stops for you to take some beautiful pictures to capture your memories. After another 45 minutes, you will reach the beautiful city of Tarragona. Tarragona is one of the bigger cities close to Barcelona, and it's definitely worth exploring! There are more than enough attractions in Tarragona. The city used to be an important city during the Roman times, and you can still see a lot of Roman influences across the city. For instance, there is an old Amphitheatre for you to explore!
Valencia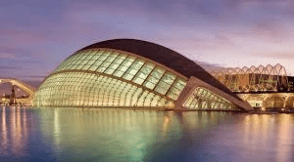 Once you've seen all the amazing attractions in Tarragona you are ready for the last part of the journey. This part of the journey is a little bit longer, and it will take you around 2.5 hours to reach Valencia. This might sound like a long drive, but you can easily take a break at one of the many coastal towns along the road! Once you're in Valencia, you will be able to see many landmarks of this great city. We recommend you stay the night in Valencia, so you can head back to Barcelona the next day. This way you can enjoy your stay in Valencia to the max!
Montserrat
On the way back to Barcelona, you can take a little detour into the mountains, so you can witness something truly amazing. The city Montserrat is 40 kilometres away from Barcelona and it's situated on top of a mountain. The views from up there are simply incredible, and it is an absolute must-see for everyone who is in the neighbourhood! On top of this, you will also be able to visit the Montserrat Monastery which is a very famous landmark in Catalonia.
Where can I rent a car for my road trip?
For you to make this road trip reality, you'll need a car of course. Luckily for you, Barcelona is home to many car rentals, and you can easily make your reservation online. For instance, Sixt is a great car rental service, which will give you great options. They have many rental points throughout Barcelona, so it is likely you are close to one of them! You simply fill in your personal information and you can choose which car you would like to drive during your road trip from Barcelona!