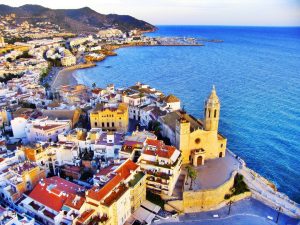 The city of Barcelona itself is full of magnificent wonders, and a trip to the city will leave you feeling satisfied, with the amount of architecture, museums, art, independent boutiques, restaurants, cafes and bars that it boasts. However, if you are looking to extend your travelling and venture off to a nearby beach town, then look no further than the beautiful town of Sitges.
With 300 days of sunshine all year round, Sitges boasts a day filled with golden warm sun, even when Barcelona's skies are dull and grey. Located just 35km south of Barcelona, on the Costa Dorada, this vibrant and interesting town is well worth the trip.
Throughout the day Sitges is a picturesque coastal town, with stretches of beautiful, white sandy beaches and deep aqua sea. Perfect for a day spent lounging in the sun, the coast is littered with beach side cafes and restaurants, apt to cater for all needs. By night, Sitges is well-established for its dynamic, lively and vibrant party scene, dominated by the town's thriving gay scene. Early February boasts the acclaimed gay carnival, with people flocking from all over to celebrate with processions, floats and fancy dress. Popular among the youthful population of Catalonia, the carnival is bustling, animated and provocative. As well as this, in September the town hosts the Sitges Film Festival, with a particular emphasis on fantasy and horror.
The town itself is beautiful, boasting archaic and classic buildings and architecture, alongside coastal and beach-side town houses and structures. For a dose of culture and art, head on over to the Museu Cau Ferrat, which is the house and studio of the Modernist Catalan painter Santiago Ruisiñol. A temple to the former artist admired by the likes of Picasso, this museum is a sanctuary to the Modernista vision.
Travel
A mere 40 minutes on the RENFE train from Barcelona Sants/ Passeig de Gracia/ Estacio Franca, and at only €8 for a return, this trip is easy and well-worth it. If you can, take a seat on the coastal side of the train, as the views as it ventures up the Costa Dorada are stunningly spectacular.