Valencia is just four hours from Barcelona but, even though that the two cities share the same language and are both part of "els països Catalans", culturally and aesthetically they couldn't be more different. These four hours between the two cities leaves them worlds apart.
Valencia weekend getaway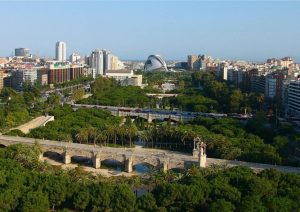 The first thing that struck me was the city's cleanliness and order.  Wide boulevards and open parks feed an artery of
green right into the heart of the city. Whoever was responsible for the urban planning of Valencia certainly gives the designer of Barcelona's Eixample a run for their money.  The centre is encircled by the impressive Jardins de Turia, once a river with a notorious habit for flooding, and now a botanical oasis. The old town is made ever more impressive by this unique parkland feature. Grand whitewashed buildings, an abundance of steeples and even a castle dominate the foreground beyond the gardens. Palm trees, long avenues and extravagant bridges (a legacy of the now dry river) comparable to New Delhi.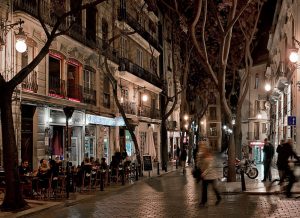 Enter the old town and enter a model of a Spanish stereotype. Quaint white architecture lines the winding streets which are barely more than alleyways. The end of every corner is topped off by a stunning church or the odd palace. Despite its size and population of nearly a million people Valencia feels like a ghost town compared to Barcelona. A stark contrast from the crowds of La Rambla, the pace of life in Valencia is unequivocally different. Everything in the urban centre is on a noticeably smaller scale and would lead one to believe they had entered a town in the country, not Spain's third largest city. Nonetheless, it is breathtakingly beautiful in its own right.
T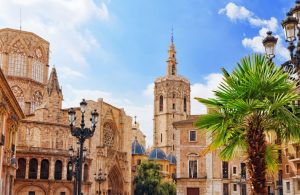 he main 'must sees' of Valencia's historic centre are all a stone's throw from each other making them easy to see in a day. One of the most beautiful buildings in the city centre has to be its Cathedral. Construction on this spectacular monument started back in the 13th Century. La Catedral de Santa María de Valencia is equally impressive inside and out. It contains spectacular murals and paintings stretching back to the 15th century making it a real time capsule. Another beautiful piece of Valencian history is its central market. Not only is it architecturally stunning but also offers a sensory overload with an overwhelming array of fresh produce on offer inside.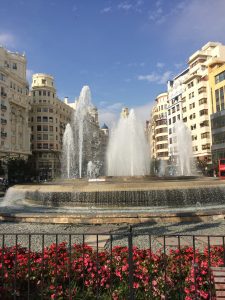 Just beyond the picturesque old town you will discover the Gran Via and Valencia's political heart. Plaza Ayuntamiento, whose fountains and palms bask in the Mediterranean sunshine, are a stark contrast from the narrow older streets of the Barrio del Carmen. Here the buildings are beautifully whitewashed and beam in the strong sun. It is here in the main square that you will find the stunning Town Hall of Valencia. Like its neighbouring buildings its white washed walls are a breath-taking example of this cities use of baroque and mannerist design. This is a style of architecture that originated in the late renaissance period. It is characterised by a buildings symmetry, proportion, order, harmony, and similarity to buildings of the classical past.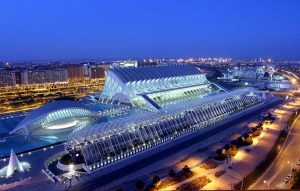 Valencia's greatest secret, however, is Santiago Calatrava's futuristic Ciudad de las Artes y de las Ciencias. Looking more at home in a Hollywood sci-fi movie, this collection of jaw dropping modern architecture is a must-see. Situated in the old riverbed surrounded by gleaming pools of water, the buildings appear to almost float. Each building is uniquely distinct but distantly related. Contained within them are two of Spain's most amazing museums. The centre for science boasts incredible interactive displays and exhibitions which will keep visitors of any age engaged. Adjacent is the stunning Palau de les Arts Reina Sofía Opera house.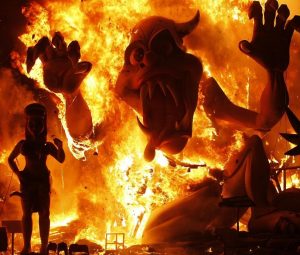 One thing that can't be forgotten when talking about Valencia is the infamous Las Fallas Festival. Five days of pyrotechnical extravagance, music and much more. It begins on the 15th of March with processions of historical, comical and religious importance.  Irrespective of age, anyone who is anyone will be seen throwing fireworks and noisemakers in the streets, only adding to the ambience of madness.  The events follow a fixed pattern each year beginning with the La Despertà, the start of the live music. Secondly, La Mascletà, a very well-coordinated firework display which happens every day at 2pm.
Els Castells and La Nit del Foc are nightly fireworks which take place at the old river bed on the 15th, 16th, 17th & 18th progressively getting bigger each night until the crescendo of the La Nit del Foc (the Night of Fire). The grand finale is saved for the final evening known as the Cavalcada del Foc (the Fire Parade). This mind-blowing show of fire includes floats, gunpowder, costumes and fireworks. La Cremà, is the official end of the festival and takes place around midnight on the final night of the festival where the 'fallas' parade floats are burnt outside the town hall.
Note that it's usually a fair few degrees warmer than Barcelona. In fact, Valencia has one of the mildest climates in all of Europe so for those who like it hot; Valencia is the place to head!
Plaza del Tossal is a great place to be in the evening with a variety of lively bars and a couple of clubs offering plenty of nightlife to be enjoyed. It's also an ideal spot for mingling with the locals.
Best place to eat: Cinnamon restaurant Valencia. Michelin star for the price of a Maccies. More or less. With an ever changing menu, this tiny restaurant has big taste and is highly worth the visit.
Carrer de les Comèdies, 5, 46003.
Best place for churros: Of course you cannot visit a Spanish city and not try the local churros. The hands-down winner has to be Horchatería Santa Catalina in the heart of the old town.
Plaça de Santa Caterina, 6, 46001.