Summer is one of the most special times of the year as it offers thousands of plans and opportunities that in other conditions we could not do. Of course, not all that glitters is gold and that is precisely why many times the heat during this time can overwhelm us and even dissuade us from leaving home to explore the city. That is why it is necessary to have an ace up your sleeve and accompany your walks with lots of water and something very cool … such as a delicious ice cream from some of the best ice cream parlors in Barcelona. Sounds good right? Well, don't miss any of our recommendations!
Best ice cream parlors in Barcelona :
-Rocambolesc
One of the most famous ice cream parlors in Barcelona due to the great popularity of its founders, the Roca brothers. Located in the heart of Las Ramblas, this is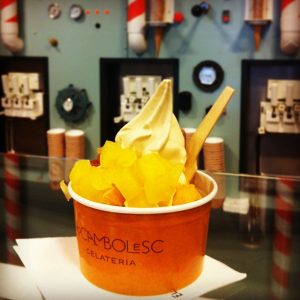 one of the ice cream parlors in Barcelona that surely you will not be able to forget. Its creations are categorized as "avant-garde ice creams" where the objective of the younger of the brothers, Jordi, is to surprise the public with their original forms and spectacular flavors and all of this are framed in an ice cream with a supreme quality. Although it is true that the price is somewhat high, it is fully offset by the experience of trying an ice cream made by someone who has 3 Michelin stars.
-Gelaaati di Marco
This place, located in the Gothic quarter, right next to Plaça Sant Jaume, can totally boast of being one of the best Italian ice cream parlors in Barcelona. Its ice creams are 100% natural without dyes or preservatives and they are all handmade by the owners, who comes from a family ice cream maker for several generations. In addition, this site is famous for having a wide variety of ice creams that are not usually found in other ice cream stores, so if you have a craving for a particular flavor for a long time it is very likely to find it in this place.
– Delacrem
Another our favorite ice cream parlors in Barcelona is undoubtedly Delacrem. This small place located on Enric Granados street nº15 is one of those highlights hidden in Barcelona that is worth making time to look for … Its owner, Massimo Pignata, has managed to create an Italian artisan ice cream shop in the heart of Barcelona that can make you transported to the Piedmont region, where his family originated. Do not miss any of their 100% natural homemade ice cream, surely they will not disappoint you.
-Paral·lelo Gelato
This ice cream shop is one of the most delicious and, at the same time, the strangest one that you can find in Barcelona. It is precisely from the previous statement where its name "Paral·lelo" comes since it defends a concept of ice cream quite different from what we are used to. Apart from having the traditional flavors, which are daily made and changed with the season, they also dare with the most "strange" flavors such as smoked cheddar with crispy bacon or French roquefort (among many others).
-Kakigori
If you want to get out of a bit the summer routine and get into different cultures, then Kaikigori is your
place. This small Japanese restaurant, located right next to Plaça de la Vila in the legendary neighborhood of Gràcia, offers only three products: Onigiris, Dorayakis and Kikigoris. No doubt, the claim of this site, besides the wonderful varieties of dorayakis, are its kikigoris, which are the typical Japanese ice creams. These "snow ice creams" seem very simple, but in that precisely lies their difficulty, plus it´s not easy making a worth repeating dish by getting shaved ice with syrup. The most famous flavors are those of lemon, chocolate, strawberry and ginger.
It is difficult not having your mouth watering after reading this article about the best ice cream parlors in Barcelona … so our advice is that, as long as the summer heat continue, take advantage of visiting as many ice cream shops as possible . Even so, we remind you that in Barcelona it is not usually very cold, even if in winter, so you will surely have the opportunity to eat these wonders throughout the year.