Barcelona is a great place to find some amazing street food markets. From food trucks to cosy stands, Barcelona has it all! For anyone who is interested in exploring Catalan cuisine, make sure you visit at least one of these street food markets. The markets are hosted throughout the year, so there's a big chance there is one going on during your visit to Barcelona!
Monumental Club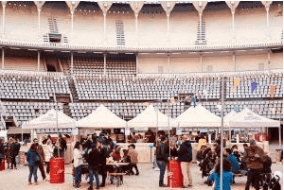 We start off our list with a food market which is located in one of the most emblematic places in the city. Namely, the former bullring of the Monumental. This is an amazing place to be, as it is a big part of the Catalan culture and it is full of history. During this day time festival there are several food trucks, such as: Two Boludos, Street Rols and Foodtruck Twists. They are experts in creating delicious fresh food – they are definitely worth a try! In addition to the great food, you will be able to enjoy some live music while you're eating! 
The festival is usually hosted in Spring and you can check out the Monumental Club website to find out when their next festival is taking place! The prices are quite cheap as well. The entrance costs €2 for everyone entering before 17:00 and €4 after 17:00. The entrance is free for all children under the age of 12. If you like street food, make sure you visit this place during your next visit to Barcelona!
Eat Street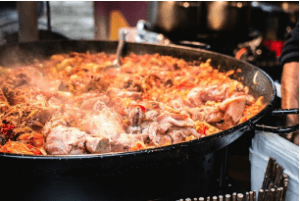 The Eat Street food market is a great gastronomical event in Barcelona. There is a large variety of food trucks for you to choose from. All these trucks have creative and tasty options on the menu for you to try! Many of Barcelona's famous food trucks will be cooking for you such as: Tropic, Killer Burrito, Cloudstreet Bakery, Eureka Street Food and Hummus Barcelona. In addition to the great food, there are also some amazing drinks for you to sample. From amazing coffee to freshly squeezed fruit, the Eat Street food festival has everything you could wish for!
For anyone interested in improving their cooking skills, there is a masterclass organized by a popular restaurant in Barcelona called Lascar 74. The festival is usually hosted in late Winter/early Spring and the entrance is free! However, make sure you get there on time, as there is only a limited capacity!
Slow Food Festival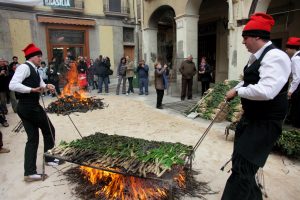 If you are interested in experiencing some truly Catalan culture, then the Slow Food Festival is the place for you! It is a really popular food festival amongst the locals in Barcelona which makes it the perfect place to learn about Catalan culture. One of the things you definitely must-try are the Calçotadas. This is a typical Catalan dish which is prepared according to traditional recipes. As for the entertainment, you will be able to enjoy some lovely live music that works great with your roasted Calçotadas! 
The event takes place on every Saturday in March at the Jardins de les Tres Xemeneies. The easiest way to get here is to take the metro to Paral-lel. The entrance is completely free, so make sure to put this festival on your list for your next visit to Barcelona!