If you happened to be looking for the best brunch options in Barcelona, then you've come to the right place! Barcelona is filled with amazing restaurants that offer brunch menus throughout the day. Brunch used to be always linked with the weekend. However, nowadays most restaurants offer it on weekdays as well! This is great news for brunch lovers, and to make your day even better, we will share our favorite brunch places in Barcelona with you! This way, you can try them out during your next visit to Barcelona.
Alsur Café
One of our favorite spots to get brunch in Barcelona has to be the Alsur Café. With three locations throughout Barcelona, it is highly likely that you are close to at least one of them! They serve anything you could possibly want for brunch. From pancakes to eggs and waffles to burgers, they really have it all. However, there is one rather unusual option on the menu and it is easily our favorite. The Double-Meat Churronut-Burger. This is a burger where the 2 buns consist of sweet churro rings. On the inside, you'll find a fried chicken and a cheeseburger. We know it sounds crazy and ridiculous, but the combination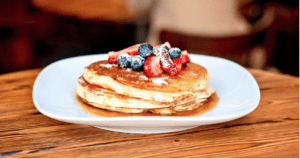 between the two works really well! 
Plaza de Sant Cugat 1, 08003.                                                          Roger de Llúria 23, 08010.
Sant Pere Més Alt 4, 08003.
El Árbol Brunch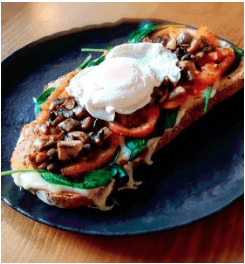 Another great place in Barcelona to get brunch is El Árbol Brunch. They specialise in making the best brunch and they do it with joy. Their menu has everything any brunch lover might need; including scrambled eggs, eggs benedict, pancakes and smoked salmon toasts. They have 2 locations in Barcelona, and one of these locations is close to the Arc de Triomf. This way you can start your day of sightseeing at El Árbol Brunch! Make sure to bring your appetite, so you can enjoy the delicious options they have on the menu for you! 
Locations:
Carrer del Consell de Cent, 252, 08011.
Passeig de Sant Joan, 33, 08010.
Ugot Bruncherie
Another place specialized in Brunch is the Ugot Bruncherie. It is a really cosy and vintage looking place where you will find everything you desire for your perfect brunch in Barcelona. Their extensive menu includes toasts, eggs benedict, shakshuka and many more great options! Our favorite option at Ugot Bruncherie has to be their homemade pancakes with creamed pulled chicken, leek, curry, pico de gallo, organic poached egg and slow cooked onions. In addition to this, they offer gluten free options for the most part of their menu! 
Being located in the Eixample neighbourhood makes for a nice walk after your brunch, which is the perfect way to start your day in Barcelona! Make sure you reserve a table on weekends, as it is a very popular brunch spot in Barcelona.
Location:
Carrer de Viladomat 138
The Benedict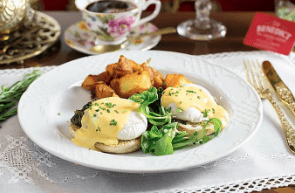 Last but far from least, another of our favorite brunch spots in Barcelona is a great option for egg fanatics! As the name suggests, they are specialized in making the best egg benedict in Barcelona. They make them in 7 different variations and you should at least try one of them! If you are not a fan of egg benedict, you need not worry as they have other great options too! They offer traditional English and American style breakfasts on their menu which are definitely worth trying. In addition to this, they also offer some great burgers, so you could say there is something for everyone on this menu! Make sure to get yourself a freshly squeezed orange juice to enjoy with your brunch. 
Location:
Carrer Gignás 23. 08002