Yes, this is Street Art. But not any old street art. Not the spray-spattered old doors covered with flaky paste-ups layered with brash tag scrawls in the back streets of the Born that lead to the Ozz co-working space where tonight a bucket of cold beers and DJ spinning vinyl accompany the inauguration of an exhibition "de putissima madre," as the hipster dude with leather boots eloquently exclaimed to his companion.
Gilbert, an old-school Paris artist, unloads the baggage of his cultural heritage from Africa, Asia and Europe mixed in with his own experiences onto canvas.
Is Cren a post-apocalyptic Kandinsky or a master of noir romance? Possibly both, and certainly more; the Berliner's legacy stretches back to the 80s and has touched down on more than 14 countries and 3 continents where he has painted.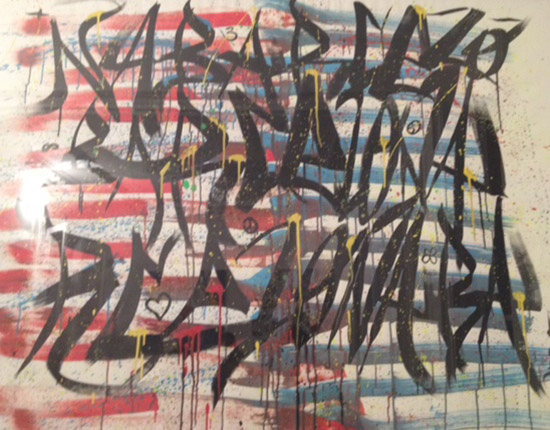 BRE, BRE BaRcElona
BRE is in with the right crowd, as member of both the international group MAC in Paris and BAD in New York. His style has been scooped off the streets and onto TV, fashion, museums and body paint.
Drum roll for a legend please. Sonic from New York grew up with 70s hip-hop and spat it out in pioneering graffiti styles that set the genre rolling and are still rolling strong today. Think books, magazines and films such as "Wild Style", "Style Wars", "Beat Street" and "Hip-Hop Art".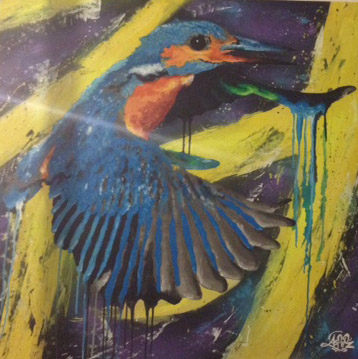 Aspir, Pájaro Loco (acrylic)
Aspir, from Mexico, scooped the Youth award for the city of Sonora, Mexico, in 2003. Come on world, surely that kingfisher deserves no less than a Turner prize?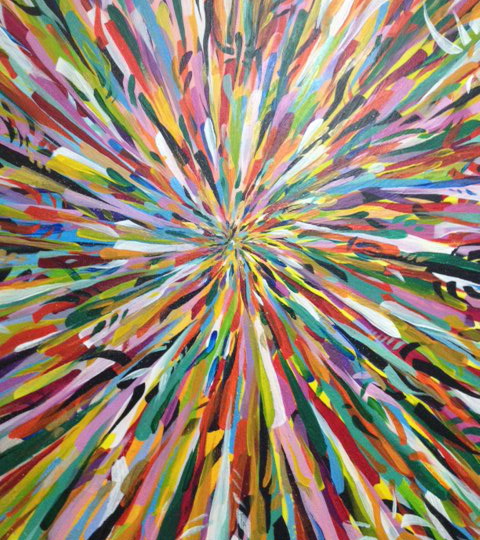 Chan, Trip Through the Light (acrylic)
Wham bam hello Chan. Stare at this painting for one minute, then turn to look around the room.  Visual kool-aid at its finest. Chan, from Barcelona, has a prolific presence on the international graffiti scene and has recently been working in sculpture, clothing and art galleries.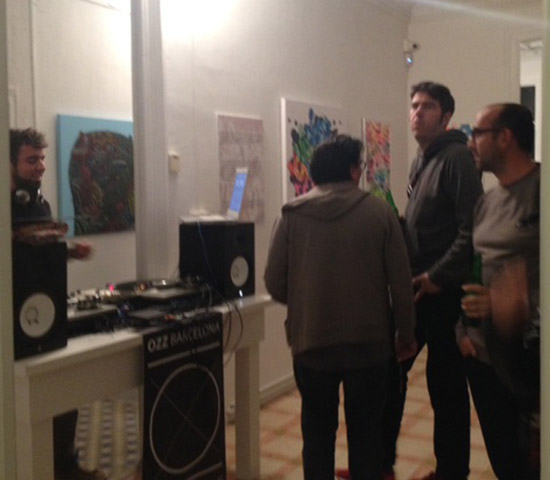 This Is Street Art inauguration
Other artists exhibiting include the Paris crew: Juan, Popay and Kongo. If you rush down there now-now-now, by which I mean before 10pm on the 17th March you might still catch some tunes and swipe the last cold beer. After the inauguration you can see the exhibition until the 31st March by contacting OZZ at www.ozzbarcelona.com and arranging a visit.
C/ Mirallers 5, Barcelona