In 2019, concerns about the environment, healthy eating and the importance of supporting local businesses have never been higher. To put your mind at ease about all of these responsibilities, Grupo San Telmo have opened Zero Patatero in El Born, a restaurant committed to the 0km food concept. For those unaware, 0km is a commitment to using local ingredients that have not travelled through global food suppliers and therefore do not impact either the environment or the food quality. The result is a wide selection of tempting tapas offerings, each of which is prepared using fresh organic groceries, sourced nearby.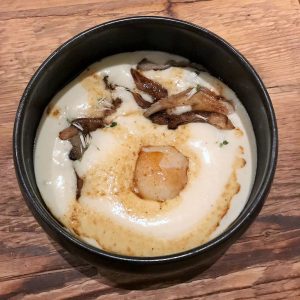 Zero Patatero is easy to find, even if you are new to Barcelona. Whether you are approaching from Parc de la Ciutadella, or from Passeig del Born, simply head towards El Born Centro de Cultura y Memoria until you encounter Passatge Mercantil. The restaurant occupies a privileged spot overlooking this picturesque square and takes full advantage of its fortunate location with floor to ceiling windows and an al fresco dining area.
Inside this modern, high-ceilinged venue you will be treated to some unusual and thought-provoking artwork to appreciate whilst you dine. Zero Patatero take their 0km pledge very seriously, even finding Barcelona-born, graphic designer Clara Arnus to decorate the interior of their restaurant. Besides an intriguing mural of a fish devouring a pair of shapely human legs, the most fascinating embellishment is a wall of graffiti in English, Catalan and Spanish. Popular phrases such as 'Life is too short to drink bad wine', written in white paint, stand out against the black background and make an interesting adornment to the eatery.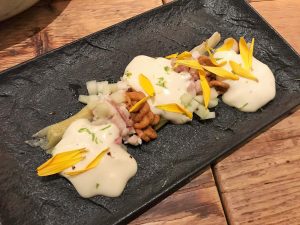 The 0km concept would be difficult to adhere to in England when compiling the wine list. Fortunately for Barcelona's restaurants, Catalonia has several wine producing regions, the nearest of which, the Penedès, is a mere 30 minutes away by train. As such, many of Zero Patatero's most popular vintages are made with Catalan grapes and bottled just down the road. The wine list also includes 50 ecological wines, grown and produced without any chemical pesticides, insecticides, or preservatives.
To sum up the cuisine at Zero Patatero, it could be described as organic, fresh and original. Unusual recipes such as smoked eel tartare present a new take on a popular Barcelona tapas dish, whereas their cauliflower with salty almonds praline offers a totally different seasonal option. Of course, everyone's favourite patatas bravas is also available to order and the 0km travelled by the potatoes makes it even more delicious than usual!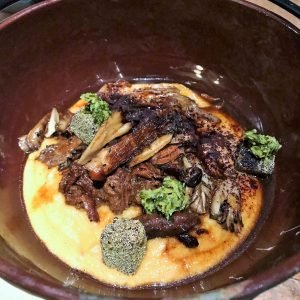 If you are lucky enough to visit Barcelona in early Spring, look out for Zero Patatero's calçots (a popular and delectable onion), served with mussels and traditional romesco sauce. Other seasonal additions to the menu include a wild boar spaghetti – a species currently running rampant in Barcelona's nearby mountains and forests. Two rice dishes are also available, one seafood themed with red prawns and crab, and the other with pork cheeks.
At Zero Patatero the attraction for many people may be the 0km commitment, however everyone can appreciate the high quality of their cuisine and the diverse range of options. The menu deviates from the typical Barcelona fare with imaginative, creative recipes, despite using entirely Barcelona-based ingredients. As a result, you can enjoy a different tapas meal, comfortable in the knowledge that everything you consume has minimal environmental impact.