Barcelona may boast a plethora of restaurants and cocktail bars, yet few venues merge the two into one unique space. However, this bold venture is exactly what the Alchemix achieves with marked success. Perhaps it is because the 'Alchemixers' behind the idea, Sergi Palacín and Ignacio Ussía, bring together a mix of cuisines, techniques and concepts with natural flair that the Alchemix works so well. Visit this intriguing spot in Eixample to experience the latest Barcelona dining experience.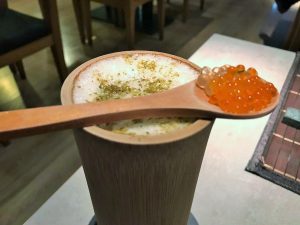 As you enter the Alchemix you will encounter a grand marble bar that serves as a tempting and welcoming zone in which to discover the genius behind Ignacio Ussía's bartending skills. A beautifully illustrated menu explains the unusual beverages, each of which is labelled with symbols to indicate levels of sweetness, sourness, fruitiness and various other factors. This Alchemix periodic table allows you to make an informed decision for optimum drinking pleasure. But, if you are still undecided, Ignacio is extremely willing to help you find your ideal appetiser and we recommend you take his professional advice.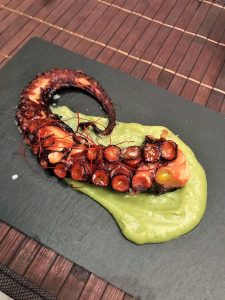 After perusing the drinks menu, the distinctly Oriental influence over the Alchemix should be evident. Cocktails such as the Arashi Spirit (a must-try), made from Asian products such as sake and ginger, allude to the story behind the Alchemix's founding. The Alchemixers met not in Catalonia, but in Bangkok, at Gaggan Restaurant, where they both worked for a number of years. For those who are unfamiliar, Gaggan was lauded as the best restaurant in Asia and number 10 in the world whilst the Alchemixers were there. As a result of this background, both men are unsurprisingly adept at working with traditional and modern recipes from the Far East. Fortunately for us, they have brought this adroitness back to Barcelona to fuse Catalan and Asian food and drink in imaginative and often startling combinations.
After sampling Ignacio's liquid delights, anticipation should be sky high for Palacín's culinary creations. As you progress deeper into the Alchemix to the comfortable dining area, make sure to take a moment to appreciate the optical illusion contained in the paintings by Italian artist Giuseppe Arcimboldo. His compositions reimagine the human face using fruits and vegetables and may help to prepare you for the fusion tapas that awaits.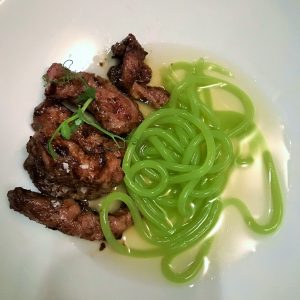 Popular Catalan ingredients such as octopus tentacle are served satay style with Eastern seasoning 'chile majado', a dish you are unlikely to find anywhere else in Spain. Similarly rare creations are commonplace on the Alchemix menu, for example the Kha Kai carn d'olla Gyozas. This is a dim-sum with 'escudella' stew, infused with tropical ingredients including coconut milk, ginger and galanga. Yet another infusion dish you simply have to order is the green peas Tokoroten, ham dashi and Iberian pork – possibly the first time Spain's famous Iberian ham has been served hoisin style and accompanied by Tokoroten noodles and dashi.
Whilst Barcelona may be a gastronomic-obsessed city with literally thousands of restaurants and eateries to choose from, finding decent Asian cuisine is akin to seeking the Holy Grail. For anyone craving a taste of the Orient, the Alchemix offers authentic dishes interspersed with remarkable Catalan-Asian inventions. For dessert, the Gulab Jamun is a natural choice for anyone seeking a typical Indian dessert, delectably sweetened with 'ratafía' honey and "mató". But whether you are craving a particular flavour, an expertly crafted cocktail, or simply want a memorable and top-quality meal, the Alchemix should be your go-to.