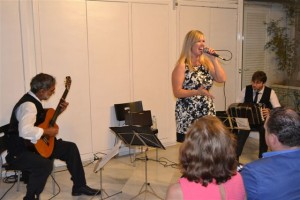 I recently discovered tango life beyond the dance floor when I went to see Siempre se Vuelve a Buenos Aires, a one-off performance by an immensely talented trio of Argentines on vocals (Analía Carril), accordion (Marcelo Mercadante) and guitar (Gustavo Battaglia).
Stationed in my seat amongst a smallish audience, there was no eyeing up of potential dance partners or gazing at the darting feet and flow of skirt; instead, the focus of everyone's attention was on the flourish of the music and its makers.
The show started off with early tangos played on the guitar and the accordion- or el bandoneón– which were simpler in their melody and without lyrics, and then took us through the ages of more complex and theatrical pieces that were perhaps more well-known. Informative explanations from the musicians throughout and chronological sequencing of the songs gave us a real taste of the evolution of tango music and its richness.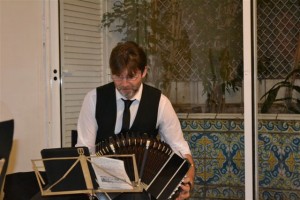 The audience enjoyed a beautiful exchange between the guitar strings and the fabulously expressive sounds poured out from what I learned was a German accordion, and of course there was voice – what a voice! There was a surge in emotion and intensity topped by a superb Piazzolla solo that gave extraordinary life to the stretching and shrinking, wheezing and breathing instrument wrestled with on the accordionist's lap.
The inner world of Buenos Aires was on display and what better backdrop to marvel at such musical artfulness than the elegant white-walled gallery tucked away on the smart streets of Barcelona's Eixample district.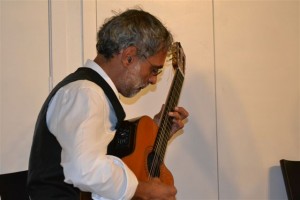 The exhibition space itself was open for concertgoers to enjoy the unusual mask sculptures on show whilst glugging down a nice glass of bubbly handed our way after the performance. This sweet gesture gave the opportunity for folk to mingle and even meet the musicians. It was an evening that felt exclusive on many levels but mainly because – as I only really appreciated once chatting to each of the trio amidst the fizz – it was a unique coming together of musical talents.
The good news is that the gallery continues to bring brilliant artists together for these intimate events every fortnight. The next one is tonight (22nd October at 20:30) and continues the Latin American flavour with Cuando Vuelva A Tu Lado: Boleros and Bossa Nova; and in two weeks' time (5th November) The Gourmets Vocal Quartet will be performing their show Gospel Per Tots Sants. Tickets are €15 (admission to the gallery and refreshment included in the price) and can be reserved via email: lmp@scriba.c.movistar.es
For more information, visit the Galería Ignacio de Lassaletta's website or Facebook page.