There is nothing worse than returning home from an incredible trip with nothing to show for it. Your family and friends pester you for a slideshow of your holiday, and the best you can offer are some blurred images that may or may not feature your travelling companions – we've all been there! Fortunately, Pick a PicTour offers a professional photography service to capture you and your loved ones enjoying the beautiful sights of Barcelona, leaving you with memories to last a lifetime.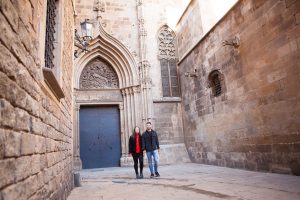 Your charming and entertaining photographer, Valeria, will take candid snaps of you in the Catalan capital's most picturesque locations. From the quirky winding alleys of the Born and Gothic neighbourhoods to the iconic waterfall at Parc de la Ciutadella, this unique experience is boundless fun for posers and the camera-shy alike. Welcoming solo travellers, couples, families and friends, Valeria makes all her 'models' feel relaxed and at ease, and most importantly ensures that you enjoy your time to shine.
Yet, photo memorabilia of your trip is not the only thing to come out of Pick a Pic Tour's Old City Photowalk. Valeria also doubles up as an insightful city guide, and will provide you with fascinating anecdotes about the various spots visited in between each photo session. However, unlike some tours, she keeps things short and snappy, so that there's plenty of time to strike a pose: lights, camera, action!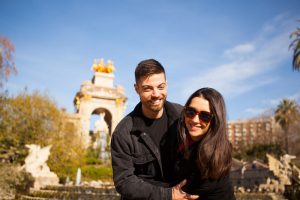 So, if you are fed up of trying to take that perfect shot amidst a horde of tourists as you try to shelter your possessions from those pesky lingering pickpockets, make a beeline to Rusc de Turisme (Pick a PicTour's home) for their expert snapping skills. That said, even if you are an avid photographer, luggage restrictions may prevent you from bringing your professional gear, so why not leave the hard work to Valeria and her capable team? What's more, with their one-week delivery policy, you'll receive your photos in the nick of time, as Barcelona's dreamy blue skies and Valeria's quips seem like a distant memory.