Barcelona is a great place for beer lovers. There are many amazing bars where you can enjoy your favourite beer after a long day of sightseeing. But, wouldn't it be great if you could combine sightseeing with drinking beer? If your answer to this question is 'Yes!' then this article is for you. Find out how you can explore Barcelona in a unique way!
The Beer Bike Tour in Barcelona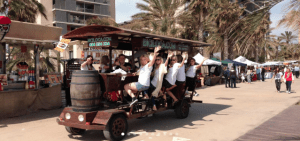 The Beer Bike Tour is immensely popular amongst students who are visiting Barcelona. A tour includes 1 Litre beer or delicious sangria per person, a tour guide, music installation and of course the beer bike. The Beer Bike has a tap installed into it. This way you can enjoy some delicious self-tapped beers! As for the music installation, you are able to connect your own device, so you can play your groups' favourite music during your tour! During the tour you can enjoy your drinks, dance and sing along to your favourite music. The tour guide will make sure you will have a great time, so you don't have to worry about anything except paddling! The tour takes around an hour and it makes for a great combination of partying and sightseeing, as you can experience Barcelona while you are paddling.
Pedal Cruise in Barcelona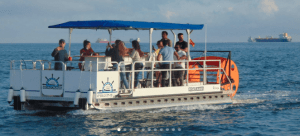 An alternative, but still similar way of exploring Barcelona is the Pedal Cruise! This is basically the same as the Beer Bike Tour. However, the difference is that you will be paddling in the Mediterranean Sea! You and your friends can decide your own route, as long as you will be back in 90 minutes. It's a great way of getting a view of Barceloneta Boulevard from another point of view! You will start your journey after you meet your guide at the W hotel at the far end of Barceloneta Beach. 
Similar to the Beer Bike you can enjoy your own music on the Pedal Cruise! This way you can listen to your favourite tracks, while enjoying the view of Barcelona. Same as the Beer Bike Tour, the Pedal Cruise includes 1 Litre beer or Sangria per person. It is also possible to bring your own drinks with you, so you can admire the view of the Barcelona skyline while enjoying a beer or sangria.
You and your friends can paddle your way forward, or you can choose to get some help from your guide with the engine on the boat. Either way, you will have an amazing time with your friends!
Where to stay in Barcelona?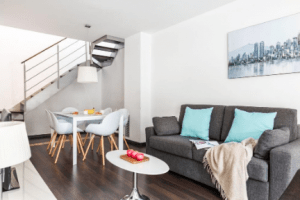 Staying in Barcelona is one of the best decisions you and your friends can make. It can be hard to find an accommodation for a larger group of friends, but you need not worry! AB Apartment Barcelona has numerous apartments available for larger groups of friends for you to browse and choose from! They are specialized in delivering excellent service, and they even provide a 24/7 customer service. Check out their website, and find the perfect match, so you and your friends can have an unforgettable stay in Barcelona!