If you're like me, there's only one consuming thought racing through your mind when you're strolling through the streets of Barcelona with a growling stomach and a heavenly aroma floating through the air–indulging in the delicious pastisserias that are tucked away on every street corner. But if you're also like me, this luscious whiff of churros con chocolate or the buttery scent of a flaky croissant is the closest you will ever get to tasting these scrumptious delights. To the fellow vegans or to those ambitious enough to try its exquisite cuisine, you understand the tragedy of finding ourselves left out of the dessert scene and being left to feast on what they label our dull vegan dessert, fruit. Luckily, we've managed to break free from this struggle and have saved your sweet tooth from despair by giving you the Top 5 Vegan Dessert Spots in Barcelona. Whether it's a stuffed Nutella chocolate donut or gorgeous cinnamon rolls, we can assure you that none of these dessert spots will have fruit included.
1. Chök The Chocolate Kitchen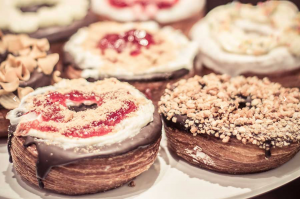 If you're ready to satisfy that chocolate craving that has been eating you up since you've arrived, Chök The Chocolate Kitchen is your spot to go where you dine on chocolate AND indulge on the glorious nutella too. Here, you'll find their infamous vegan nutella-stuffed donut (who would've thought!) and vegan lemon pie donut coated beautifully with velvety chocolate. Although Chok is not an all vegan store, their many vegan pastry options will still leave your belly full of happiness and chocolate.
Where to find: Carrer del Carme, 3, 08001 Barcelona
2. La Besnéta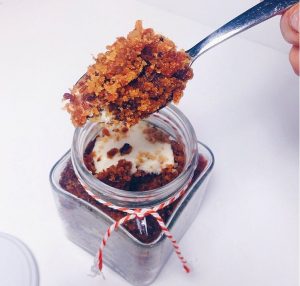 Finally!!! An ALL vegan pastry shop where we aren't limited to trying only a couple of pastries, but instead can give into our guilty pleasure of ordering one of each off the menu. Using only the freshest and seasonal products to provide the best quality pastries, there's no question to how La Besnéta has won over the hearts of vegans and non-vegans too. Their cakes in a jar are not only cute for those Instagram photos, but their delicious ooey gooey taste will keep you coming back for more!
Where to find: Carrer de Torrijos, 37, 08012 Barcelona
3. Flax and Kale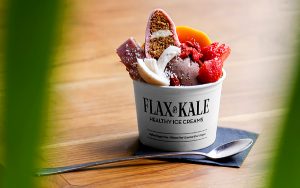 Raspberry mousseline? Smores cake? Absolutely impossible if you're vegan. Well, Flax and Kale has completely debunked that myth by giving you those heavenly pastries that you thought you could never get a taste of again. Make sure you get a bite of their luscious chocolate-dipped banana bread or if you're feeling ambitious, indulge yourself with their renowned white ginger and miso cheesecake that is an explosion of rich flavor with every bite.
Where to find: Carrer dels Tallers, 74b, 08001 Barcelona, Carrer de Sant Pere Més Alt, 31-33, 08003 Barcelona
4. Väcka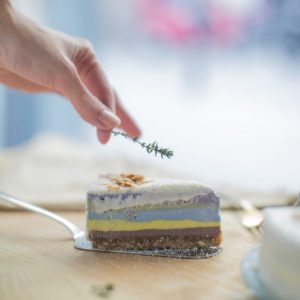 If you're looking to feed into your sweet tooth while keeping your supermodel figure intact, Väcka is your dessert home! Mostly raw and gluten free, their desserts are not only extremely delicious, but they let you walk away from their restaurant guilt-free. Treat yourself to their airy, scrumptious tiramisu, their creamy chocolate torte, or their fluffy, tasty cinnamon roll. Or why not all? It is "healthy".
Where to find: Carrer de Sèneca, 4, 08006 Barcelona
5. Teresa Carles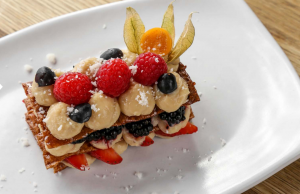 If you're feeling swanky and you're in the mood for feasting on lavish sweets, Teresa Carles, sister of Flax & Kale, will satisfy your tastebuds with their dazzling desserts that deliver magic on their flavor and their presentation. Rather than sticking to the typical desserts you can find anywhere, Teresa Carles is bold with their dessert options with a decadent, vegan snowflake cake smothered with white fudge and caramelized pears or their infamous mille-feuille featuring a delicate French pastry with silky crema catalana and crunchy pine nuts. No matter your dessert choice, you'll be sure to impress not only your date with these fancy sweets, but your taste palette too.
Where to find: Carrer de Jovellanos, 2, 08001 Barcelona
Whether you label yourself a vegan or not, there's no doubt that these scrumptious Top 5 Vegan Dessert Spots in Barcelona will leave your mouth watering and your stomachs growling for more. Not only will these vegan desserts satisfy that sweet tooth of yours, but they will leave you walking away guilt-free knowing that you were also sweet to animals too!