In a city dominated by its football team, sometimes it seems hard for any other sport to stand out in the Barcelona.  FC Barcelona Handbol does all of this and more with their stunning records and incredible games.  While being played all around the world in places like Asia, Africa, and South America, the sport has traditionally been dominated by continental Europe; and who better to stand at the top than our very own Barcelona team?
History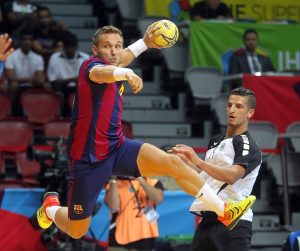 While handball originated at the end of the 19th century in northern Europe, it wasn't until 1917 that the modern set of rules was published.  In fact, the first international games using these rules occurred in 1925, and didn't even make it to the Summer Olympics until 1936.  It can be said that handball is a relatively new game in the large world of sports.  FC Barcelona jumped on the wave of enthusiasm for handball near the very beginning, founding their own official team on November 23, 1943 (although it's suggested that they were playing friendly matches in the 30s).  Soon after their creation, FC Barcelona Handbol found success: they won the double of the Catalan and Spanish Championships for 3 years straight in the mid-40s, as well as 2 further doubles in 1949 and 1951.
Like all good things, this did not last forever.  Due to the game being relatively new, the rules were altered once again and the once 11-man outdoor sport turned into an indoor, 7-a-side game.  Barça struggled to keep up in this new environment, and eventually succeeded in 1969 with a league and cup double.  It was around this time that the Palau Blaugrana was constructed, which still serves as their home today.  While the 70s were not their most successful for Barça, as they only managed two cups and a league, the fans section was growing and the team was becoming more popular;  things were looking up.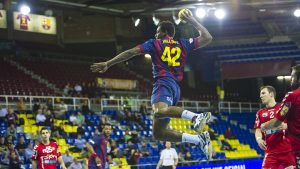 And like an answer to this sudden popularity, things did improve with the onset of FC Barcelona Handbol's golden age.  The 80s began with the team winning two League titles and one Copa del Rey, as well as a new coach: Valero Rivera.  Rivera then lead the team to win more titles and victories than ever before, as Barça dominated Spanish as well as European handball.  The team won 5 consecutive Spanish league titles from 1987 to 1992, as well as another 5 from 1995 to 2000, in addition to their nine Cup titles up to the year 2000.  They also conquered Europe by winning 3 consecutive Cup Winners Cups in the mid-80s, its first European cup in 1991, and two consecutive Cup Winners Cups in the mid-90s.  This was just the beginning, however; from 1996, Barça set the record of winning 5 European Cups in a row, something no team had ever done before.  For the cherry on top, they also claimed 4 consecutive European Super Cups.
In the 2003-2004 season, Valero Rivera stepped down as manager and the dubbed "dream team" came to an end.  Despite many of the star players moving on and many major administrative changes, the success of the team continued.  FC Barcelona Handbol has kept their place among the leaders of European handball, winning a seventh Champions League and Asobal League title in 2006.  The team continues to dominate today, with becoming the Bauhaus Asobal Champions for the 2015-2016 season, winning the last 6 consecutive league championships; a feat only managed by one other team.
Want to learn more about FC Barcelona Handbol?  Take a look at their official website.