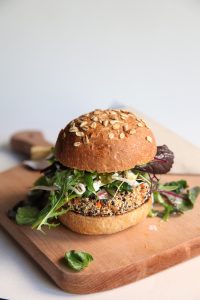 Whilst jamón ibérico will forever be the core of Spanish gastronomy, the city's veggie restaurant scene is becoming increasingly popular amongst carnivores and herbivores alike. The Green Spot (part of En Compañía de Lobos), however, stands out amongst its competitors, thanks to its delicious and innovative menu paired with fabulously chic decor and an atmospheric vibe. Whether you're looking for a quick spot of healthy lunch to re-energise you after a morning of sightseeing, or a relaxed evening of good food with your loved ones, The Green Spot veggie restaurant is the place for you.
Whilst perhaps a cheesy, bacon lathered burger would be typically favoured over anything from a veggie restaurant, it's places like The Green Spot that are reinventing vegetarian cuisine. Despite only recently opening and being tucked away on Carrer de la Reina Cristina, it already has a strong following of locals and expats alike who value The Green Spot's rich medley of flavours found in all their dishes. Not to mention, the vibrant colours of their exotic concoctions are extremely Instagram friendly, and will certainly leave your friends and family salivating.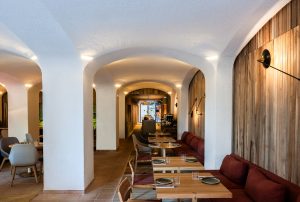 Their expansive selection of low fat and light options are ideal for the health conscious amongst you, or alternatively if you're seeking a bite to eat before a night out on the town. We recommend beginning your meal with one of their refreshing and tempting cocktails, especially the mango and chilli mojito, which whilst it certainly has a kick, goes down a treat nonetheless. This spicy blend is perfect to sip on whilst you peruse the menu and make the tricky decision of deciding which of their divine veggie goodies to sample.
Depending on how hungry you are, it's a good idea to order a selection of their appetisers to nibble on as a group. Their labneh topped with pistachios, pomegranates, kalamata olives and mint served with warm flatbread drizzled with za'atar is definitely a favourite of ours, as is their fried cauliflower with tangy tamarind sauce. As you can see, The Green Spot certainly isn't afraid to experiment with flavour and ingredient combinations and jazz up traditionally "boring" vegetarian food. What's more, their unique take on Mediterranean fare with Middle Eastern influences introduces something different and truly fantastic to Barcelona's gastronomic scene.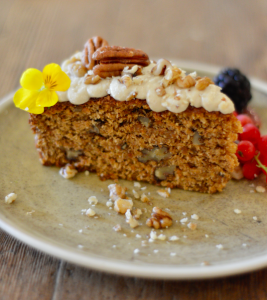 For mains, you can either decide to share a few dishes in true tapas style or order individually. Either way, make sure to try their unique spin on tacos with jackfruit as the filling and lettuce instead of a corn tortilla, making tacos nutritious for a change, and allowing you to enjoy them guilt-free! However, fear not, The Green Spot hasn't totally reinvented the concept of tacos as they're still served with avocado and pico de gallo. We also recommend trying one of their pizzas to get your carb fix, in particular their combo of artichokes, spinach, leeks, feta cheese and pine nuts on a cauliflower base which is both filling and incredibly tasty. What's more, several of their pizzas are vegan friendly – as is much of their menu which, rather than opting for ingredient substitutes for vegans, focuses on plant-based and natural products.
With such an impressive array of meat-free dishes and non-stop sunny service – which makes the Green Spot even more lovable – we can't promise that you won't arrive at The Green Spot a dedicated carnivore and a leave a veggie convert!