Are you visiting Barcelona, but you're looking for a way to save some cash? Then this article is for you! Visiting Barcelona can be expensive, but there are ways you can save some money visiting Barcelona. This way you will have more money to spend during your vacation so you can enjoy more tapas at La Rambla, cocktails at Barceloneta Beach or sangrias at Plaza Real. Keep on reading and find out everything you need to know about Girona Airport!
Girona Airport: Price differences compared to Barcelona El Prat airport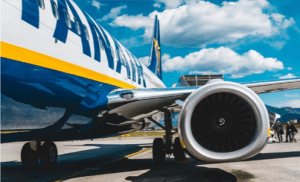 Girona Airport is the major base for Ryan Air. From here, they have more than 62 routes to the rest of Europe. Since Ryan Air is one of the world's cheapest airlines, you can save a lot of money! If you compare the prices between Barcelona El Prat and Girona Airport, you can see that you can save around 30 to 40% per ticket when deciding to use Girona Airport while visiting Barcelona!
How to get to the Barcelona city center from Girona Airport?
Although Girona airport is situated 91 kilometers away from Barcelona, it is really well connected to the city. The best and cheapest way to reach the center of Barcelona is by bus. These buses are very convenient because there is always a bus waiting for passengers who need to go to Barcelona when any plane lands at Girona Airport! The bus ride takes about 75 minutes and the bus drops you off at Estació del Nord in the center of Barcelona. From here, you can simply take a taxi to your hotel, or you can take the metro. The prices for the bus are very cheap as well. For a single ticket you will pay €16, and a return ticket will cost you €25,-. You can buy your tickets at the Salagés website.
You could also consider renting a car at Girona airport, so you can drive yourself to Barcelona. This could be a cheaper option if you are traveling with a larger group!
We would not recommend going to Barcelona by train. This is because the train station is in the Girona center, which is another 20 minutes away. However, there is a project to build another train station meters away from the airport. Once this station is finished, the train will undoubtedly be the quickest and most efficient way to go to Barcelona.
What to do after an early hotel checkout?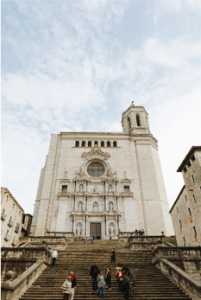 Due to an early checkout at your hotel in Barcelona, it can happen that you will have to kill a few hours until you can fly home. Since Girona Airport is way smaller than Josep Tarradellas Barcelona-El Prat Airport, there are not as many shops and restaurants that will keep you busy. Does this mean you will have to bore yourself at the Girona Airport? Of course not! Girona is only 20 minutes away by bus. This gives you the opportunity to visit another great Catalan city. Here you can spend the last hours of your holiday in style. Enjoy the view on the city from the city walls, or marvel at the Girona Cathedral, which features on the Game of Thrones series!
Another option for you is to stay a few more hours in Barcelona. The only downside of this is that you will have to drag your luggage with you for hours. Thanks to Stasher there is a solution for this problem. After an early checkout at your hotel in Barcelona, you can easily store your luggage at one of their 80 drop-off points in Barcelona. This gives you the chance to enjoy your last moments in Barcelona to the fullest!