Over the last few years, tourism in Barcelona has increased immensely. Therefore, it's no surprise that Josep Tarradellas Barcelona-El Prat Airport is the second busiest airport in Spain. With more than 50 million visitors each year, only the airport in Madrid has more yearly passengers.
Since this is one of the largest airports in Europe, it is important to be well prepared. Continue reading and discover everything you need to know about Josep Tarradellas Barcelona-El Prat Airport!
Josep Tarradellas Barcelona-El Prat Airport
How to get to the city center?
Being situated just 3 kilometers away from the city, El Prat is at the perfect l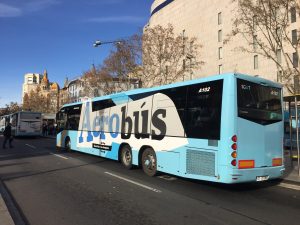 ocation for anyone staying in Barcelona. The airport is extremely well connected to the city center. You have numerous options that can take you to your hotel. For instance, you could go by Aerobus. This is a Shuttle bus, which departs from Terminal 1 & 2 and takes approximately 35 minutes to get you to Plaça Catalunya. In the summer during peak hours, these busses go every 5 minutes. A single ticket for the Shuttle bus will cost you approximately only €6. Have a look at the Aerobus website to book your tickets online.
Another option for you would be to take the train to the city. The train will take you to Sants station in 20 minutes and tickets for the train can easily be purchased at the airport. A single ticket will cost you around €4.
A more luxurious option would be to take a taxi. This way you can start your stay in Barcelona in a more relaxed way and you won't need to worry about booking tickets online. You just simply walk towards the exit and there are all the taxis lined up for you. The downside of this form of transport is that it is a little bit more expensive. For a ride to the city center you will pay approximately €30.
What to do while waiting for your flight?
There is no need to be bored at Josep Tarradellas Barcelona-El Prat airport, since there are enough things to do around here! For instance, you can eat like locals. Apart from the usual fast food chains like McDonalds and Burger King, there are also various amazing tapas bars and Mediterranean cafes.
If you are into shopping, you can keep yourself busy in the various shops this airport has to offer. Here you will find shops focused on fashion, natural and organic goods, body treatments, and chocolate. In addition, fans from FC Barcelona will be able to buy an original jersey at the official Barcelona gear shop! At Josep Tarradellas Barcelona-El Prat airport you can also find a Victoria Secret shop.
If you just want to watch your favorite series on Netflix or update your Instagram account, this is possible as well! At El Prat airport there is free WiFi available for everyone regardless of your class.
Which Terminal should I go to?
Because of the enormous growth of the last years, the airport had to expand in 2009. A new terminal (T1) was built 4 kilometers away from T2. T1 is currently responsible for 70% of the flights. Since the terminals are 4 kilometers separated from each other it is really important that you check your flight details before you fly, so you will be at the right terminal at the day of your flight.