Barcelona is not only renowned for its Spanish and Catalan culture but also for its very own Barcelona flare that can be found no where else in the world. A big part of Barcelona's culture is the beautiful architecture to be found all over the city not only the exquisitely decorated, everyday buildings which have coloured walls and ornate metal, but of course all the work by Barcelona's vey own Antoni Gaudi.
Not only can you feast your eyes on so much of the stunning architecture for free, there's plenty of other things you can do around Barcelona for all for free, so if you're on a budget take a look at our top five free things to submerge yourself in beautiful Barcelona culture.
All things Gaudi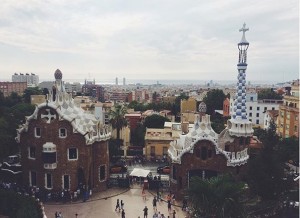 You cant come to Barcelona and not see some of the outstanding architecture it has to offer, what's best if you're on a tight budget you can see most of the buildings for absolutely free, granted you may not get the best view of the most intricate architecture inside, but a lot of the buildings have enough to look at on the outside. The famous ones obviously include, La Sagrada Familia and Park Guell which you can both see form the outside for absolutely free. Why not also go and see the three stunning modernism buildings on Passeig de Gracia; Casa Lleó, Casa Amatler and Gaudi's Casa Batló
Born Centre Cultural
Entrance to this centre is free and the building itself is the gorgeous former Mercat del Born and now houses the remains of whole streets which had been flattened to make way for Ciuatadella park which are on show for you to have a look around. There's also exhibition spaces around the building showing all kinds of items from the nineteenth century and going into greater depth about them, a kind of mini Barcelona exhibition circa 1900.
Museums
If Barcelona wasn't great enough already, museums around the city offer free entry on selected days of the week, allowing you to swerve the entrance fee and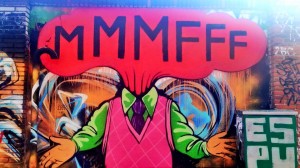 experience all the fabulous art the city has to offer. Museu Picasso and MUHBA are free on Sundays, 3pm-8pm and MNAC is free on Saturdays after 3pm. But, if you prefer the creative one off pieces which can be found on the street, Barcelona's graffiti and street artists are a talented bunch and street art can be seen all around the city, from old school graffiti writing, to transferable stencils and beautiful paintings. El Raval is perfect to see these smaller yet quirky pieces of street art, as well as a few bigger murals. Poblenou however is the destination where you will find walls covered in huge colourful, impressive murals and is a definite must on your free tour of Barcelona.
 
Churches and Cathedrals 
The churches around the city are beautiful to look at from the outside, with old school gothic architecture the details are amazing. The cathedral in the centre of the Gothic Quarter is the dominant building of the square and striking architecturally, the inside is just as impressive. With free entry in the morning and late afternoon, its high ceilings and grand pillars are a feast for your eyes.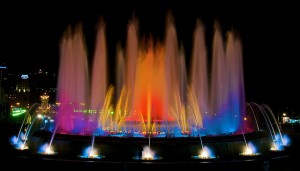 Magic Fountain
Last stop on your free cultural tour of Barcelona will definitely have you leaving on a bang! With this slightly more unusual, modern culture stop, but nonetheless impressive, the magic fountain at Placa Espanya which has been drawing hu
ge crowds ever since it opened in 1929. And what's not to love? With huge water jets and multi-coloured lights, choreographed delightfully in time to background music this magnificent show is something you wont be able to find anywhere else and is the perfect way to end your free tour of Barcelona.