Anyone who has visited Barcelona, and most who haven't have heard of La Sagrada Família and the Gothic Cathedral. However, there are many other stunning churches, monasteries and cathedrals built within and outside the city. Discovering some of the hidden churches dotted around the local areas and neighbourhoods in Barcelona is a great start for visitors looking to experience a new side of Barcelona. Many of which are easy to visit en route to other destinations and equally as impressive as the infamous attractions. For the ever-keen explorer there are also a few hidden gems a little further a field, which may require an afternoon or longer to truly enjoy and appreciate the church's beauty and local area. Any of the churches below are well worth the trip (no matter how short or long!).
Basílica de Santa María del Mar (Basilica of Saint Mary of the Sea)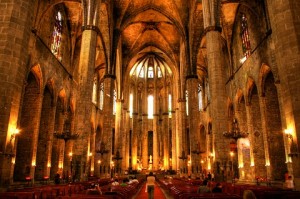 Not far from the famous Gothic Cathedral (La Seu) the Santa Maria del Mar is another beautiful example of the church construction that took place throughout the gothic period in Barcelona. Built in the 14th century, Santa María del Mar took over 50 years to complete, with both the interior and exterior clearly reflecting the influence this period has on much of the Catalan capital's architecture. Entrance into the church is free. Perfectly placed and only a stone's throw from the Picasso Museum, Santa Maria del Mar brings traditional culture to the trendy yet stunning El Born area, making it an ideal place to visit before enjoying a drink or coffee in the nearby square.
Address: Basilica of Santa Maria del Mar, Plaça de Santa Maria, 1

Basílica de Santa María del Pi (Basilica of Saint Mary of the Pine)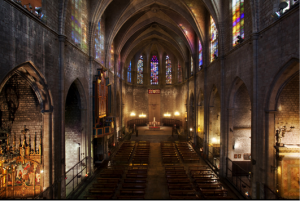 The Santa Maria del Pi is located in the heart of the gothic area but remains one of Barcelona's most prominent churches, and is frequently visited on walking tours. Despite the church's overall simplicity in both its interior and exterior, Santa Maria del Pi boasts one of the largest stained-glass, rose windows in the world. Its name is derived from the pine tree that wasplanted in the square next to it prior to the Church's construction. There is also a small museum and treasury within Santa Maria de Pi's walls providing greater information on the Church's history.
Address: Basílica de Santa Maria del Pi, Plaça del Pi, 7
Templo Expiatorio del Sagrado Corazón de Jesús (The Temple of the Sacred Heart of Jesus) 
Visible from the almost any location in Barcelona is the Templo Expiatorio del Sagrado Corazón de Jesús.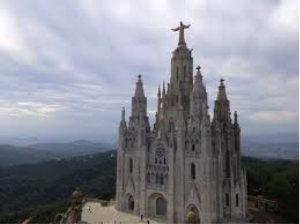 Spectacularly positioned on top of Mount Tibidabo, the Church and its statue of Jesus Christ watch over the entire city. The architecture of the building is amazing and was beautifully designed by Enric Sagnier. His son finally completed the Church 60 years later. Its boasts neo-Byzantine influences on its ground floor and a combination of Roman and Gothic styles on the second floor – where you will find the Church itself. In addition to its stunning structure the Temple also possesses some of the most beautiful views of Barcelona and has one of the best viewpoints of Catalonia's capital. Grand in every aspect this is one of the few churches able to rival its centrally positioned counterparts, La Sagrada Familia and the Gothic Cathedral (La Seu).
Address: Temple of the Sacred Heart of Jesus, Cumbre del Tibidabo

Sant Pau del Camp (Saint Paul of the Countryside)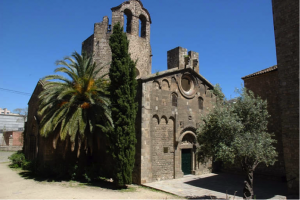 Barcelona's oldest church and former Benedict monastery, Sant Pau del Camp, isn't found within the Gothic district of the city but instead in El Raval. Founded in the 800s it was initially built outside of Barcelona but today sits timelessly among the hustle and bustle of the modern day city within the quirky Raval neighbourhood. Enjoying beautiful and serene grounds it stands the test of time in stark contrast to most of its immediate surroundings. Although Sant Pau del Camp experiences less fame and publicity than many of Barcelona's other churches and cathedrals it has survived for far longer, giving it amazing history and making it a great choice to visit.
Address: Sant Pau del Camp, Carrer de Sant Pau, 101
Reial Monestir de Santa Maria de Pedralbes (Royal Monastery of Saint Mary of Pedralbes) 

Located in the secluded and peaceful outskirts of the city is the magnificent Reial Monestir de Santa Maria de Pedralbes. This three-storey Gothic monastery is less elaborate than a lot of other architecture designed in the gothic period, but the building still has a beautiful symmetry and simplicity about it. Surrounded by expansive and luscious gardens, the Reial Monestir de Santa Maria de Pedralbes is a perfect escape to tranquillity from modern Barcelona, and a far cry from the touristy experience of La Sagrada Familia. Located slightly outside the city centre, the monastery attracts the real explorers who want to discover the hidden gems Barcelona has to offer. The site is also home to a small chapel and museum so it is easy to spend afternoon immersed in its grounds.
Address: Monasterio de Pedralbes, Baixada del Monestir, 9
Monasterio Románico de Sant Miquel in Poble Espanyol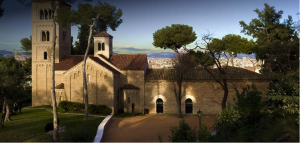 In the picturesque village of Poble Espanyol, a small and traditional Spanish village hidden on Montjuic, lies the Monasterio Románico de Sant Miquel, a stunning Roman monastery with a three floored bell tower and chapel. Similar to other monasteries in the city it is a serene sanctuary and a world away from Barcelona's busy streets, and too surrounded by wonderful grounds. However, as this monastery is situated high above most of the city it also has some wonderful views and vantage points, looking north over all of Barcelona. The architecture replicates a traditional Catalan and Spanish style; therefore it is a good contrast to many of the churches in Barcelona, which were built in the Gothic period or later. Poble Espanyol itself is an insight into an historic Spanish way of life and community, allowing visitors to briefly leave behind the big city and experience an untouched area of Montjuic. For a truly unique, Spanish-inspired church, this monastery as well as the village, Poble Espanyol, is well worth the visit.
Address:  Avenue de Francesc Ferrer i Guàrdia, 13
Parròquia de Santa Anna (Church of Santa Anna)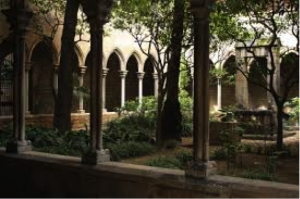 It is hard to believe this small and secluded Catholic Church is nestled just off La Rambla and so close to Placa Catalunya. An alternative to the grand Sagrada Familia and Gothic Cathedral based in the heart of the city is the Parròquia de Santa Anna. The church's architecture and building still offer a lot of beauty and intricate detail despite its small size. Therefore, when visiting its easy to integrate with the community and feel like a local, even though it is situated in a prime tourist location. In addition to church services and visiting hours the Santa Anna also holds intimate live music events and concerts some evenings. Tickets for music are available online and it is recommended to book in advance as the maximum capacity is 80.
Address: Carrer de Santa Anna, 29
Further a field…
Santa Maria de Montserrat Abbey (the Sanctuary of the Virgin Mary of Montserrat)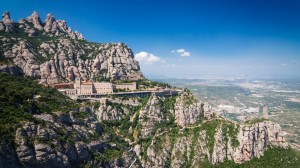 With its origins dating back to the 9th Century, Santa Maria de Montserrat Abbey has drawn people outs of Barcelona and into the Montserrat mountains for hundreds of years, to visit the buildings and community dedicated to the Virgin Mary that are established here. The current Benedictine monastery was initially founded almost 1000 years ago in 1025, and today 80 monks still live within its walls, as it remains a full-functioning monastery and church. Prayer begins and ends each day in Montserrat with the Monks meeting an additional 5 times a day. The image of Our Lady of Montserrat is a focal point of the upper section of the Church, locally called La Moreneta (the Dark One). With stunning views high up in the mountains, visitors can also enjoy the beautiful landscape and marvel at the magnificent Catalan countryside from Montserrat monastery.
Address: 08199 Montserrat, Barcelona
Church of Colònia Güell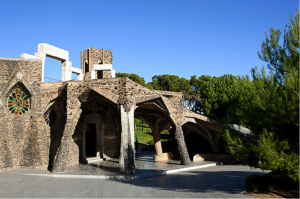 Another example of Gaudi's unusual and creative architecture can be found in Colònia Güell, a 20-minute journey from the city centre. Here Eusebi Güell, commissioner of both Park and Palau Güell, asked Gaudi to build a place of worship for his industrial workers. The church was given no budget or time constraint and was sadly never finished. None the less, the Bishop of Barcelona blessed the single lower nave in 1915. Construction began in 1908 the Church was designed on a grand scale with towers and a central ciborrio desgined to reach 40 metres high. If completed it was expected to have an impact rival to the (still also uncompleted) Sagrada Familia; this often forgotten but important piece of architecture was vital and hugely influential in inspiring Gaudi's latter work. For visitors who have enjoyed Gaudi's other work or are looking for some of his more hidden work outside the city centre then Colònia Güell is a perfect choice. Less crowded and more affordable than many of other Gaudi attractions, it offers a new insight and perspective into the infamous architect's work. The Church, often called Gaudi's Crypt, was declared a UNESCO site in July 2005.
Address: Calle Claudi Güell, 08690 Colònia Güell, Santa Coloma de Cervelló, Barcelona