Bo de B
If you are looking for something that will satisfy both your cravings and hunger without putting a hole in your wallet Bo de B is the perfect place to try in Barcelona! The small but tasty restaurant offers fresh salads and sandwiches with plenty of products for you to pick and choose. Products you can add to your salad or sandwich combine flavors from Greece, India, Africa and Europe.
Chances are you may encounter a line and may get hungrier while looking at the food in front of you but it is well worth the wait. The restaurant is located in the Gothic Quarter and you can try some of their dishes for as little as 3,50€.
Phone:
936 674 945
Website:
www.facebook.com/BodeBCN
Area:
Gothic Quarter
Hours:
Mon-Thu & Sun 12:00pm-12:00am
Fri & Sat 12:00pm-1:00am
Where:
Carrer de la Fusteria, 14
Rosa de Raval
Rosa de Raval offers you a great restaurant with Mexican décor along with some of the best Mexican food in the city. It is spacious and colorful when you walk into the restaurant located in the Raval area and you can find their menu to be reasonably priced.
At around 9€ you can enjoy their menu del dia with a variety of options to choose from that comes with a starter, main dish, dessert or coffee and a drink. Some of the favorites you can choose from include a burrito, enchiladas, flautus (shredded beef tacos) and their fresh guacamole. Along with their tasty food they also have cheap and delicious mojitos for only 3,5€.
Phone:
933 042 681
Website:
rosaraval.com/
Area:
El Raval
Hours:
Mon Closed
Tue-Thu & Sun 1:00pm-1:00am
Fri & Sat 1:00pm-2:00am
Where: Carrer dels Àngels, 6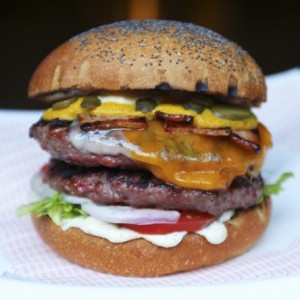 Bacoa
Looking for a burger? You should look no more and visit Bacoa! Not only are their burgers big and juicy but you can have one for around 8€. The restaurant opened its doors in 2010 and they have been using fresh products from certified Spanish farms to make their food.
Some of the burgers they offer include La Bacoa with bacon, Manchego and cheddar cheese, San Jacobo with lamb and caramelized onions and La Japonesa which is marinated in teriyaki sauce. The menu also offers salads and a vegetarian burger along with sides and ice cream for dessert.
Phone:
932 507 290
Website:
bacoa.es
Area:
L'Eixample
Hours:
Mon-Sun 1:00pm-1:00am
Where:
Ronda de Universitat, 31
100 Montaditos
A place that you can make the most of your euro is definitely 100 Montaditos. The cerveceria offers you plenty of options in their sandwiches including some with bacon, smoked salmon, tuna, chorizo and more. To order your food you fill out a paper provided on every table with the number of what it is you want which is provided next to every item on the menu and turn it in to the cashier, pay , find a table and then wait for your name to be called.
Just about everything on their menu is 2€ or less including a pint of beer that can easily be three or 4€ in many parts of the city and on Wednesdays everything is 1€. There are more than 300 restaurants including some in countries like Italy, Mexico, Belgium and the United States.  The restaurant is a great place to stop by before a night out in Barcelona with locations in Heron City Barcelona, Carrer d`Aribau and Rambla de Catalunya and more.
Phone:
933 04 05 04
Website:
spain.100montaditos.com/
Area:
Rambla De Catalunya
Hours:
Mon, Tue, Thu & Sun
Wed 10am-12:00am
Fri & Sat 10:00am-12:30
Where:
Various locations including Rambla de Catalunya, 11
La Taqueria
Offering you some of the most authentic Mexican food you can buy is La Taqueria located just a few minutes walking distance from La Sagrada Familia. The place is small with colorful Mexican décor and some of their dishes include tacos al pastor, quesadillas, nachos and alambres all around 8€.
You can also have their menu del dia for around 13€ which you can finish off with some of the dessert that they serve such as arroz con leche or flan. To go along with the Mexican cuisine you should give their micheladas a try which you can ask them to make spicier if you dare to.
Phone:
931 261 359
Website:
www.lataqueria.eu/
Area:
Sagrada Familia
Hours:
Tue-Sat 1pm-4pm & 8.30pm-midnight
Where:
Passatge de Font, 5
La Fonda
If you´re visiting Spain of course you want to try the culture´s food and La Fonda is one of the best places to dine at. It is located in the Gothic Quarter and its interior design is perfect to go along with its delicious dishes and wonderful sangria. They offer some of the best paellas in the city keeping their prices competitive at around 8€.
Their special menus may set you back around 16€ (drink included) but sometimes when you`re on vacation you have to spoil yourself a bit. On some days you may find yourself having to wait to be seated but there is a line at this restaurant for a reason.
Phone:
933 017 515
Website:
www.grupandilana.com/
Area:
Gothic Quarter
Hours:
Mon-Thur & Sun 1:00pm-11:00pm
Fri & Sat 1:00pm-11:30pm
Where:
Carrer dels Escudellers, 10
Eyescream & Friends
For an interesting and fun way to eat some dessert check out Eyescream & Friends located in the Barcaloneta area. This little creative spot opened up its doors in 2012 and you can try some of their ice cream with toppings for about 4,50€.
They offer some of the best looking and tasting ice cream in Barcelona and have their international award for "Best Identity" from the 2012-2013 Restaurant and Bar Design Awards to prove it. Some of the flavors you can try are vanilla, cheesecake, strawberry, chocolate and mango along with various toppings that include dulce de leche, nutella, mandarine and more.
Phone:
932 215 310
Website:
www.eyescreamandfriends.com/
Area:
Barceloneta
Hours:
Mon-Sun 12:30-1:00am
Where:
Paseo Joan de Borbo 30