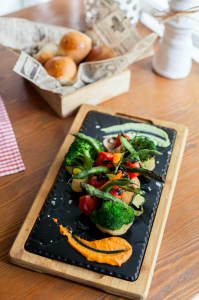 Barcelona is bursting with quaint tapas bars and dim-lit bodegas, therefore it is refreshing to find an alternative style of local restaurant, also serving Catalan cuisine in the Eixample. Vic Braseria does just that, with its modest and classical white interiors and facade, and a menu consisting of individual dishes rather than sharing-style tapas options. This picturesque eatery may be hidden away in the Eixample district and perhaps not a place you would naturally stumble across, however it is certainly worth hunting down for an unforgettable and romantic evening of Catalan cuisine in the Eixample with that special someone.
It comes nothing of a surprise that this chic restaurant is inspired by the charming area Vic, situated just outside Barcelona. The owners created the brasserie's menu based on the traditional flavours and ingredients that they sampled during their memorable time spent in the area. The idea was to reintroduce authenticity to Barcelona's gastronomic scene, given the increasing number of tourist traps appearing across the city, serving poor quality versions of local recipes.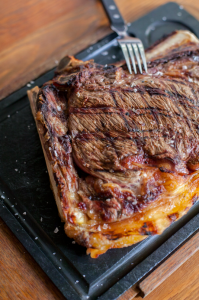 Vic Braseria's exquisite array of dishes presents the crème de la crème of home-cooked Catalan cooking without the frills, whilst also paying meticulous attention to presentation. This restaurant certainly takes diners on a journey through Catalonia's culinary history, by offering a selection of time-tested recipes, but with a modern, creative twist of international inspiration to please locals and tourists alike. Try dishes like their starter of creamy and delicious truffled cannelloni, main course of delicately seasoned, grilled salmon and dessert of cava and lemon sorbet. Alternatively, if you would like to adopt the local sharing culture, we recommend ordering a selection of their lighter starters, including the Catalan cheese board, the regional favourite of pan con tomate and platter of jamón ibérico.
If you're finding it tricky to select what to order from Chef Dario's varied and mouthwatering menu, Vic Braseria also offer various set daily and weekend menus. What's more, if you're visiting Vic Braseria for a dinner with your loved one, we advise opting for their special 'romantic menu', which consists of four fabulous courses and a welcome drink of cava (Spain's answer to champagne), for a modest 25 euros.
A key reason why Vic Braseria stands out on the Barcelona restaurant scene is the amicable professionalism of their staff. The friendly nature of their waiters certainly doesn't go unnoticed, and contributes to the restaurant's warm and inviting atmosphere. The staff ensure that they tend to your every need, so that you are able to enjoy a flawless and pleasant evening of Catalan cuisine in the Eixample at Vic Braseria.