Urban adventures Barcelona must be commended for their intrepidity in opting for Raval as the location for their Barcelona tapas tour, as opposed to the conventional El Born or Gothic neighbourhood. Frequently referred to as the "the no-go area" of the Catalan capital, Raval in actuality is one of the city's most colourful areas, with its eclectic scene of art, fashion and nightlife. This food tour undoubtedly invites you to discover the real Barcelona, allowing you to escape the city's multitude of tourist traps, and surround yourself with Catalans.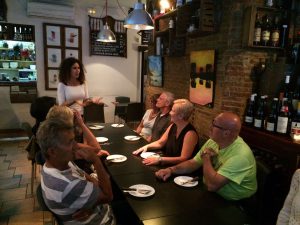 Tucked away in the Plaça de Salvador Seguí, an area unexplored by most tourists, lies the first stop of the tour: a cosy traditional eatery come creative and contemporary art space. Your epicurean guide, in our case the spirited and zealous Alicia, will introduce you to a Catalan favourite, vermouth. Sweet like treacle but with that all important kick, you will master the art of drinking like a local, gearing you up for a post-tour trip to one of Barcelona's emblematic vermuterias. To follow your aperitif, a delicate yet delectable homemade croquette, served alongside a creamier and superior gazpacho hybrid, otherwise known as salmorejo. Chilled to perfection and garnished with finely chopped serrano ham and egg, this purée is a delicacy originating from Andalucia, yet has certainly earned its place in Catalan cuisine.
In search of more cultural delights, the route weaves its way out of the multicultural Raval and towards a quirky bistro in Parallel. Renowned for its authentic sangria with its traditional blend of brandy, liqueur, red wine, lemonade and orange juice, this place is obligatory for refreshing yet potent cocktails. Amongst its perfectly balanced concoctions, this bar serves an extensive array of creative tapas dishes. Their famous patatas bravas puts a spin on the customary potato dish, with its mussel jus instead of a spicy tomato sauce and aioli. To accompany this, a regional favourite, tomato bread, escalivada, an assortment of smoky grilled vegetables and perhaps most interesting of all preñaditos de chorizo which are bread rolls 'pregnant' with a small chorizo.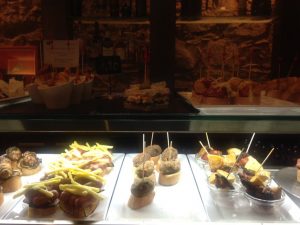 Next up, a quintessential Spanish dining experience; tinto de verano, pimientos de Padrón, manchego cheese, olives, anchovies and tomato bread – what more could you ask for when seeking an insight into local life? This restaurant truly presents the opportunity to embrace the neighbourhood's soul and unique character with its cheerfully assisting staff and local flavour.
At this point, you may be feeling pretty confident with all the do's and don'ts of Catalan tapas, but how familiar are you with the Basque Country's pintxos (AKA tapas on bread)? Simplistic they may sound, pintxos come in all shapes and sizes with a wide variety of tempting toppings, and the final stop of this tour will not disappoint. Its elongated bar is overflowing with miniature tapas dishes, that will inevitably leave your taste buds singing with joy, thanks to their top-class selection of both meat and vegetarian options. What's more, when washed down with a gentle cava, you'd be hard pressed to find a better end to a sublime evening of food and drink.
However, fear not, your urban adventure doesn't have to end here. With tours in 95 countries and 162 cities, you can experience plenty more foodie fun in the city. Say adios for now, but   bonjour, xαίρετε, sveiki and ciao for next time!