The sunny Catalan capital is renowned for its secondhand clothes and vintage wonders. Just walk through El Raval neighbourhood, the quirky and allusive district to the edge of the famous Las Ramblas, which is lined with vintage shops of every kind, ranging from the classic vintage kilo stores and thrift shops, to more up-market designs and marvels. There is something to suit every style and trend, from 80's chic to modern punk, 70's disco and retro noughties. Beside from the fabulous vintage shops, Barcelona is full of secondhand vintage and flea markets, ranging from permanent and weekly events, to ones that occur monthly or less frequently. If bargain hunting for stylish apparel and glamorous antiques is up your street, then you're in for a treat…
Open Monday, Wednesday, Friday and Saturday from 9h to 20h, the Encants Vells is one of Barcelona's oldest markets, dating back to the 14th century. Easily accessible, either by the metro station Glòries on Line 1, or Encants y Monumental on Line 2, the convenient location on Plaza Glories is great. As Barcelona's biggest and oldest flea market, and only real permanent flea market, El Encants Vells has a lot to offer. Here you'll find an eclectic mix of secondhand wonders and vintage clothes, as well as nick-nacks and antiques to fill your home with. Best to get there early to avoid disappointment…
A less touristy version of La Boqueria, Mercat de Sant Antoni is filled with an array of fresh fruit, vegetables, meat and fish all year round. On Sundays from 8:30 to 2:30 there is a flea market outside the Mercat, full of a liberal assortment of books, coins, magazines, comics, postcards, interesting for those wanting to discover the Barcelona of the past… As the Mercat de Sant Antoni is currently undergoing huge renovations, the Sunday Flea market is located on Carrer del Comte d'Urgell. Nestled in the heart of the bustling Sant Antoni district, wander down on a Sunday to rummage through the range of vintage marvels.
Under the heading of 'Reusing is the best way to Recycle' this sustainable and ethically orientated market attracts customers from all round. Read their Facebook page  to discover what's on and where, offering a range of different events. Aimed at the young and hip, with all prices starting from €1, the Two Market is up and coming, original and inventive.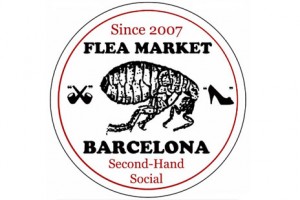 Flea Market Barcelona
Once a month on a Sunday, the city put's on their coolest street flea market. Selling a huge rang of things, from secondhand clothing, to books, bags, jewellery and household items, they seem to have it all. A fun day out in the sun, the market is located by the Maritime museum next to Drassanes metro station. Some stalls are run by owners of vintage shops, wanting to sell more items, and others are ordinary people wanting to pass on their possessions, no longer needed. The range of clothes here is fabulous, ranging in styles, sizes and age, there'll certainly be something for everyone. Log on to their Facebook page to find out when the next event is… Be sure not to miss out!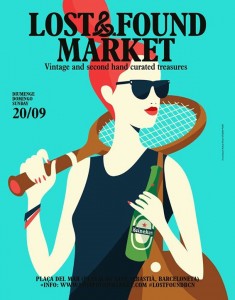 Lost & Found
Held once every three months, in a public place usually out in the open, Lost & Found boasts a huge range of vintage and secondhand items and clothes, located in the central Estació de França. Under the heading 'Vintage and secondhand curated treasures', Lost & Found is original, inventive and unique.  Link their Facebook page to keep an eye on what's happening.
Held on a monthly basis in various artistic-based locations throughout the city, De mano en mano is a travelling flea market, based on two exclusive and innovative pillars. Firstly, that of reusing and recycling, through the passing on of secondhand and vintage clothes, antiques and items; and secondly, that of inspiring and encouraging up and coming artists, creators, designers, painters, photographers, illustrators and sculptors, as well as the broad promotion and presentation of their artwork. Follow their Facebook page for more news on dates and events.