Shopping is one of the many reasons millions of visitors go to Barcelona year on year. Scattered throughout the Catalan capital, you will be able to find great shopping malls for all your desires. Whether you want to spend a whole day shopping, or you want to combine it with exploring other parts of Barcelona, anything is possible! These shopping malls are filled with many people's favourite shops and they are great places to have something to eat as well. Read below and discover where to find the best shopping malls in Barcelona!
Las Arenas de Barcelona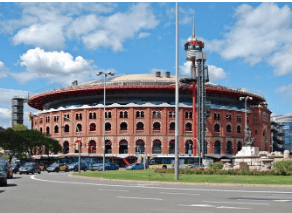 One of the most iconic places to find a shopping mall, has to be Las Arenas de Barcelona. This former bullring was reconstructed and redesigned into a shopping centre back in 2011. There are many popular shops to be found which make it a great place to spend the day shopping! In addition to the shops, you can also find a gym, cinema, restaurants and even a Rock museum in this mall. If you want to see something truly spectacular, then we recommend that you visit the circular terrace with a 360 degrees panoramic view on the 5th floor. It is a great place to take in this wonderful view over Barcelona, and you can get up there using a glass elevator for only €1. If you don't like to pay, you can easily just take the escalator inside for free! 
Gran Via de les Corts Catalanes, 373-385
Maremagnum shopping mall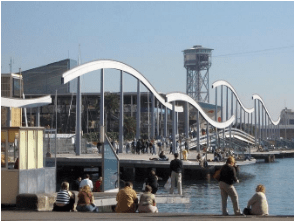 Another unique place to do your shopping in Barcelona is the Maremagnum shopping mall. It is located at the end of the wooden pier of the Port Vell, which gives you a great view of the port of Barcelona! You can get there by walking across the Rambla de Mar, which is a bridge that crosses the water. Once you are over the water, you can sit down at one of the many restaurants and terraces where you can enjoy some delicious seafood right next to the water. Needless to say, there are many shops for you to explore and you can even catch a movie at the cinema! 
 Moll d'Espanya, 5
El Corte Inglés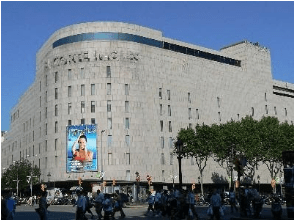 This building is one of the first ones you will see when arriving with the Aerobús from the airport in Barcelona. It is located at one of the most famous squares in Barcelona namely, Plaza Catalunya. This makes for a nice and central place in Barcelona which gives you the opportunity to combine your day of shopping with visiting one of the many landmarks in Barcelona. Inside this amazing shopping mall, you will find everything you could possibly desire, such as perfumes, cosmetics, men's fashion, women's fashion, jewellery, shoes and even furniture. They really do have it all! In case you are getting hungry whilst shopping, they also offer a wonderful restaurant on the 9th floor. 
Plaza de Catalunya, 14
Diagonal Mar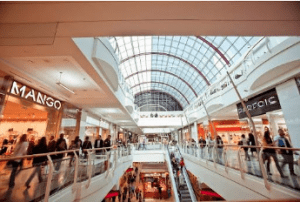 The last shopping mall in Barcelona that we would like to share with you is Diagonal Mar. It is perhaps the largest one on this list with over 200 shops for you to explore! It is located at the end of Diagonal Avenue where it meets the Mediterranean Sea. Being only 5 minutes away from the sea, makes for a great combination of shopping and relaxing on the beach! Apart from all the shops you can find here, Diagonal Mar is also a great place to have a drink on the outside terrace. When you have finished shopping, we recommend that you take a short walk around Parc de la Diagonal Mar, which is the second largest park in Barcelona! 
Avinguda Diagonal 3