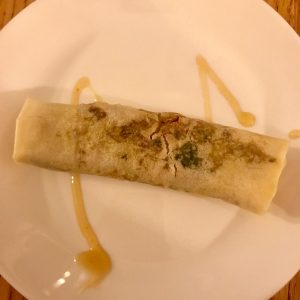 Whilst there are several restaurants that offer Thai cuisine in Barcelona, seeking somewhere that serves authentic fare with traditional ingredients can be somewhat of a challenge. Fortunately, Liz Kalnin has recently entered Barcelona's gastronomic scene under the name of 'Thai Together', and has certainly left the locals talking, thanks to her fabulous and unique take on Thai cuisine. After her successful cooking class held at Espai Egg only a few weeks ago, Liz returned with a Thai food and wine pairing evening at Uncorked Bodega to further demonstrate her impressive culinary skills. Thai cuisine in Barcelona just got a lot more exciting!
After growing up in Thailand and mastering the exquisite craft of Thai cooking from family and friends, Liz moved to Barcelona to share her talent and passion for it with the city's locals, tourists and expats. She now regularly holds events in spaces across Barcelona, where she both teaches and cooks Thai food for Asian food lovers who are looking for unpretentious, delicious and homemade southeast Asian cuisine.
Liz's most recent event was held at the quirky wine spot near Plaça d'Espanya, 'Uncorked Bodega', owned by Zara Patterson and Leanne Tonetti – two wine enthusiasts who also relocated to Barcelona. Throughout the meal, Zara pairs each course with one of their fantastic wines, to accentuate the intricate flavours and ingredients in Liz's food. Whether you prefer a dry white, a crisp rosé or a chilled glass of cava (Spain's answer to champagne), Uncorked Bodega has something to satisfy all palettes.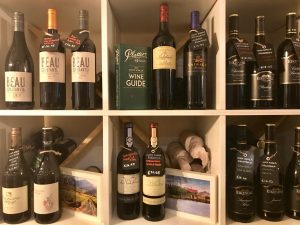 At the beginning of the dinner party, Liz introduces her carefully devised menu to the group and also explains the ingredients and background of all dishes before each course. Her starter consists of baked vegetarian spring rolls, filled with carrots, swiss chard, shiitake mushrooms and glass noodles. Liz's healthy twist on this well known recipe is superbly delicious and demonstrates the neverending bounds to her culinary skills. What's more, she pairs the rolls with a sweet plum sauce, which perfectly complements their saltiness. To follow, Liz serves an autumnal laab salad with a spicy twist consisting of chickpeas, quinoa and pumpkin tossed with pounded roasted ground rice, chillies and herbs. Be prepared for the kick – it sure is spicy!
The main course is perhaps the most unusual course – in the West that is – as her Gaeng Hung Lay curry is perhaps one of the most iconic dishes in Northern Thailand, despite the original recipe coming from Myanmar. This spectacular blend of pork belly and ribs, stewed in a fusion of herbs and spices, is arguably one of Thailand's tastiest dishes, thanks to the tenderness of the meat which just melts in your mouth and the accompanying rich, aromatic sauce. This dish is definitely a crowd pleaser, and Liz certainly does it justice.
For dessert, Liz serves fried banana fritters, delicately coated in shredded coconut and sesame seeds. Whilst this may not be the healthiest post-dinner option, it's certainly worth the calories – especially when served with a generous portion of vanilla ice cream!
If you are interested in experiencing Thai cuisine in Barcelona and booking one of Thai Together's upcoming events, 'Like' and keep an eye out on their Facebook page for more tasty dinners like this!